Remembering John Lewis
We mourn the passing of John Lewis, the legendary civil rights organizer who served 17 terms as a congressman representing Georgia's 5th District. Here's a reflection on Congressman Lewis's life and legacy from our Georgia State Director George Dusenbury, who worked for the congressman for ten years.
John Lewis believed there was a spark of divinity in all of us, and that divinity is what makes us human. He treated everyone as a person: worthy of getting to know, worthy of fighting for.
His convictions manifested themselves early on in his life, in his immersion in the fight for equality and racial justice in America. As a seminary student, Lewis organized sit-ins at lunch counters in Nashville. He stepped up as one of the original Freedom Riders, making a harrowing journey through the segregated Deep South in the early 1960s. He was a founding member of the Student Nonviolent Coordinating Committee and played a leading role in organizing the 1963 March on Washington for Jobs and Freedom, where Dr. Martin Luther King Jr. delivered his "I Have A Dream" speech. In 1965, Lewis led the "Bloody Sunday" march across the Edmund Pettus Bridge in Selma, Alabama. State troopers attacked the demonstrators, and Lewis suffered a fractured skull. Throughout the 1960s, Lewis suffered unconscionable violence at the hands of his fellow citizens and the state, and was arrested dozens of times.
The passage of the 1965 Voting Rights Act was just the beginning of his legacy of fighting for policies that moved our society toward justice. The congressman was a kind person. He was humble. He grew up on a farm, and liked to be outdoors and go fishing. He was a staunch supporter of parks and conservation legislation—he cared about the air we breathe, the water we drink, and the food we eat. He understood the connections between conservation, the environment, and our health, and believed health is a human right. "The battle for parks is a battle worth fighting," Lewis wrote in the early 2000s, after a Trust for Public Land analysis ranked Atlanta 25th of the 25 largest U.S. cities for parks. "We are losing the earthy stretches of land that not only keep our air and water clean, but that nourish our bodies and replenish our souls."
The congressman also led the effort to strengthen the Martin Luther King, Jr. National Historical Park. I was on his staff in Washington in 1993. The Olympics were coming to Atlanta, and there was no decent visitor center to welcome the world to this historic neighborhood and introduce them to Dr. King's legacy.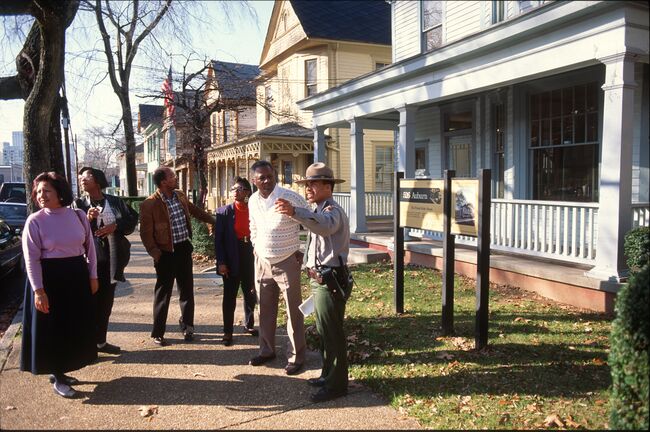 "I've supported the creation and expansion of a park in Dr. King's honor because this piece of history must be available for all to experience," Congressman Lewis said a few years ago. "People should come and see where Dr. King lived, grew up, worked, preached and talked about the good news of freedom and liberation. It is important that people of all ages and from all backgrounds have an opportunity to visit and observe the mecca for African Americans during the civil rights movement, to see Ebenezer Church and see where Dr. King and his father preached great sermons, the church where he was baptized and married, and where his funeral was held in 1968."
So our team on Congressman Lewis's staff joined forces with The Trust for Public Land. We identified a property—the site of a former factory—and The Trust for Public Land worked to get it cleaned up and transferred to the National Park Service. By the time the Olympics came to town in 1996, a world-class facility stood to welcome people to the neighborhood where Dr. King spent his early years. The Trust for Public Land has continued to work with Congressman Lewis, Atlanta communities, and the National Park Service to save buildings in this neighborhood and preserve them for generations to come.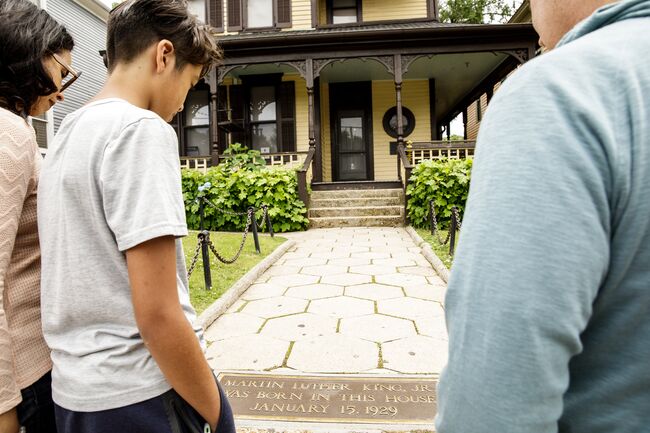 Lewis had an almost-fathomless faith in the power of young people to change the world—but often spoke about his fear that young people in America today are too quiet, too satisfied, too content to sit in the stands. He'd urge the young people he met to get out on the field. These last few months, he took heart in the knowledge that the protests in the wake of George Floyd's murder were led and grown by young people across the country.
So it's fitting that Congressman Lewis's final public appearance took place at Black Lives Matter Plaza in Washington, DC. "I just had to see and feel it for myself that, after many years of silent witness, the truth is still marching on," Lewis wrote in an op-ed reflecting on the visit. The parallels between Floyd's death and the events of Bloody Sunday in 1965 are striking. These acts of state brutality against Black Americans were both captured on video, making it impossible to deny the bigotry, racism, and institutional injustice in our society.
I'm honored to have known John Lewis, to have worked on his team, and to continue to serve the Georgians he represented so faithfully as a congressman. Even as the congressman is laid to rest, his bravery, commitment, and the policies of justice and equality he fought for will live on.
"While my time here has now come to an end, I want you to know that in the last days and hours of my life you inspired me. You filled me with hope about the next chapter of the great American story when you used your power to make a difference in our society. Millions of people motivated simply by human compassion laid down the burdens of division. Around the country and the world you set aside race, class, age, language and nationality to demand respect for human dignity."
John Lewis, 1940 – 2020
Get More Stories Like These
Donate to become a member, and you'll receive a subscription to Land&People magazine, our biannual publication featuring exclusive, inspiring stories about our work connecting everyone to the outdoors.
Check Out More Inspiring Stories
See how our supporters are helping us connect people to the outdoors across the country.