Trailblazers: this small town has a big dream for its open space
Trailblazers: this small town has a big dream for its open space
Tucked into the rugged mountains of western Maine, the tiny village of Bethel is a quintessential mountain town.
"Getting outside is part of everyday life for people here," says Gabe Perkins, a lifelong Bethel resident and director of a local trails organization called Mahoosuc Pathways. "We're surrounded by open lands, rivers, and mountains. We can get some skiing or snowshoeing or biking in every day, so we like to say we're always at least 10 percent on vacation."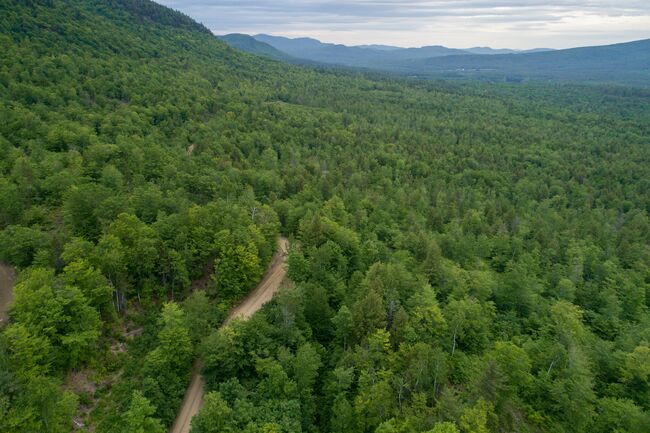 But in late 2016, the town learned that the future of one of their favorite wintertime spots—a Nordic ski center at the Bethel Village Inn—was in jeopardy. The center's operator couldn't break even, and a few days before the scheduled start of the ski season, he abruptly announced he'd be closing up shop.
"People in town had been banking on those trails being open," says Perkins. The center was an important part of the town's economy, not to mention being a mainstay in the local Nordic skiing tradition going back more than a century. "When we got the news it was going to close for the season, we had to act fast," Perkins says.
Right away, members of the community came together to chart a path for the center's future. The Bethel Outing Club stood up to manage volunteers, the high school pitched in to groom the trails, Bethel Inn provided fuel and office space, and Mahoosuc Pathways took on day-to-day business operations. "None of us knew anything about running a Nordic center, but we just wanted to find a way to say 'Yes,'" Perkins recalls. "We knew we could do this as a community."
Just a month later, the trails were groomed and open for business. Today, the Nordic center is a thriving hub for local skiers, snowshoers, and fat-bike riders in winter, and they're working to improve running and mountain bike trails on the property for summer.
But the race to save Bethel Village Trails has had another effect: "I helped us realize we were ready to grow as a trails community," says Perkins.
Next in their sights: a 980-acre property for sale just two miles from the heart of Bethel. The land has been a working forest for generations, but the timber industry is on the decline in the region, making places like this—beautiful views, outdoor access, and close to town—extremely vulnerable to private development.
If it were open to the public, the land could become the linchpin in a vast network of multi-use trails. The parcel is surrounded by 2,500 more acres of public land between Bethel and the nearby Sunday River Ski Resort. "This could totally transform outdoor recreation for this community," says Perkins.
That, in turn, could boost the local economy, which is transitioning from generations of relying on the timber industry. "As a small community, we rely on people coming here for outdoor recreation, spending money, and staying here," says Bethel resident Cat Ingraham.
There's been interest among Bethel residents in protecting this land for years, but there'd never been a clear path to making it happen, or a group or agency prepared to own and manage it. But after saving the Nordic center, that began to change.
In late 2016, the community invited The Trust for Public Land to join the ongoing effort to protect the property, since we're a leader in the movement to create community forests. It's an idea with its roots in the colonial era, when towns set aside public commons for grazing livestock, gathering firewood, and supporting schools and churches. Today, community forests are still sustaining local economies. But they're also proving beneficial in ways early New Englanders didn't anticipate: protecting clean water, attracting tourists, and safeguarding green space as communities grow.
"Community forests are a great land management model because ultimately, the people who use and rely on the land are the same people who will be making the decisions about how the land should be cared for and used," says Betsy Cook, project manager with The Trust for Public Land. "So the process of creating a community forest is naturally a really powerful opportunity for small towns to get together, make collective decisions, and decide what they want from their future. That process pays dividends beyond the boundaries of the forest."
Perkins and Ingraham say it was easy to recognize the possibilities of a community forest for Bethel. So we helped convene a committee—skiers, bikers, and hikers, but also business owners, teachers, foresters, and elected officials—to create a plan for the future of their forest. The committee's monthly meetings attract as many as 80 people. "That's a pretty big deal, considering we're a town of 2,600," says Ingraham. "We're also having lots of face-to-face conversations, giving our community forest 'elevator pitch'—even though there are no elevators in Bethel."
Cook has been helping Bethel residents create their community forest for nearly two years. "The amount of excitement, collaboration, and energy that the town has brought to this project has been outstanding," she says. "It's a really special place."
For committee member Liz Repetto, the way Bethel has come together around its trails—first to save the Nordic center, and now to create a community forest—is of a piece with what makes this town special. "Ideas and feedback matter here. The opportunity to provide input, raise concerns, and solve problems is ingrained in our way of life here in Bethel," she says. "This is so encouraging, and it's why we're so happy to live here."
Get More Stories Like These
Donate to become a member, and you'll receive a subscription to Land&People magazine, our biannual publication featuring exclusive, inspiring stories about our work connecting everyone to the outdoors.
Check Out More Inspiring Stories
See how our supporters are helping us connect people to the outdoors across the country.