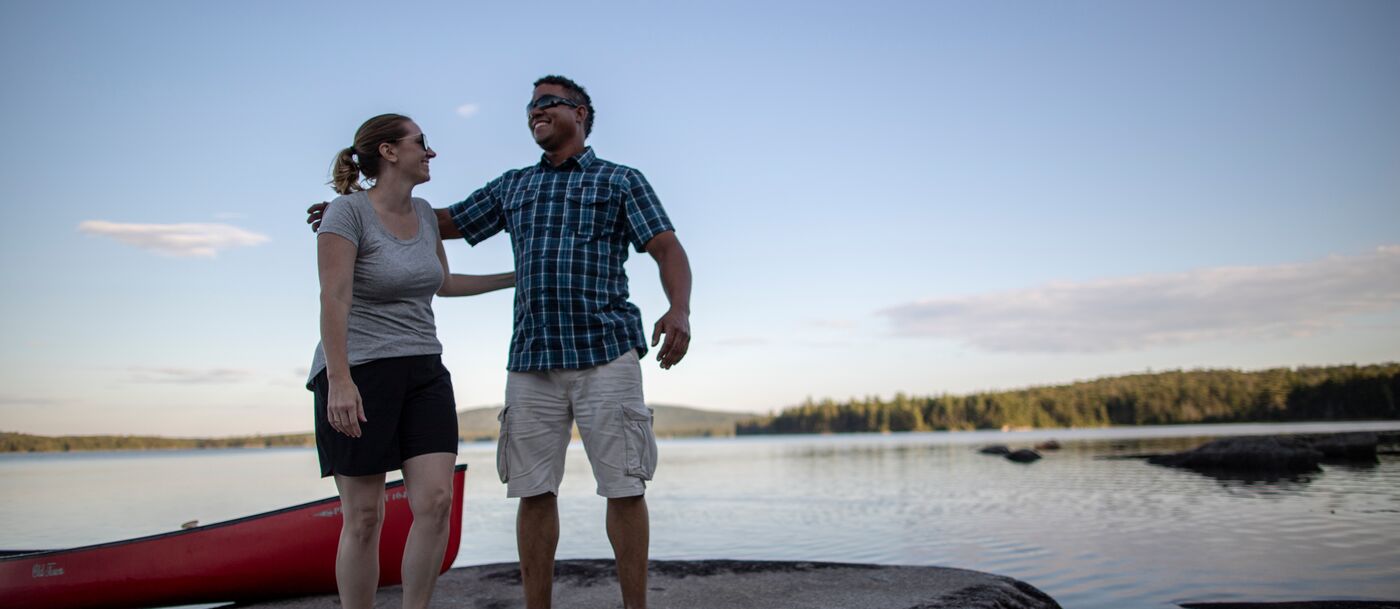 Ten places for unforgettable outdoor adventures along the Appalachian Trail
The Appalachian Trail is a solid contender for the title of America's most famous footpath. The 2,190-mile route passes through 14 states and welcomes more than 2 million people each year, though just a few thousand will complete the arduous, six-month "thru hike" from Georgia to Maine.
It may be these hardy thru-hikers who've made the Appalachian Trail legendary—but since its founding a century ago, it has welcomed outdoor enthusiasts of every stripe. For nearly 50 years, we've been working with communities along "the A.T." to improve and ensure public access to the millions of acres of wild mountains and deep forests along the route. Thanks to our supporters, we've secured permanent public access to over 310,000 acres along the trail.
From Georgia to Maine, we've helped communities protect access to over 140 special places along the A.T. Photo credit: Trust for Public Land
If you're planning a trip in the mountains this summer, or even just daydreaming of a footpath through a forest, check out these ten amazing places along the A.T. where Trust for Public Land supporters have made a difference—and where opportunities abound for outdoor adventures of all kinds.
Explore Georgia's agricultural heritage at Hardman Farm State Historic Site – Helen, Georgia
Just a few miles off the A.T., Hardman Farm welcomes hikers and history buffs alike to explore a working farm built in the late 1800s. In 2002, we transferred this treasured landscape on the Chattahoochee River to the Georgia Department of Natural Resources for restoration and preservation of this 170-acre farm as a living history center.
Spot rare wildflowers at Tater Hill Plant Preserve – Wautaga County, North Carolina
When development threatened the rare plants and wildlife that make their home in the Tater Hill Lakes Basin in western North Carolina, Trust for Public Land supporters stepped up to help. Today, the Tater Hill Plant Preserve is an important site for ecological research, a sanctuary for stunning—and stunningly rare—wildflowers like the Gray's lily, and a fascinating stopover for hikers heading north along the nearby Appalachian Trail.
The Gray's lily is only found in sunny pockets in North Carolina, Tennessee, and Virginia. Researchers are monitoring a healthy population of this rare plant at Tater Hill Plant Preserve in North Carolina. Photo credit: Flickr user Joe Giordano
Walk in famous footsteps at Harper's Ferry National Historical Park – Harper's Ferry, West Virginia
Murphy Farm on the Shenandoah River has witnessed more than its share of American history. It's where the Confederate Army forced the surrender of 12,000 Union troops during General "Stonewall" Jackson's siege of Harpers Ferry in 1862. Later, it was the site of a gathering for W.E.B. Dubois and other members of the Second Niagara Movement (which later became the NAACP) in 1906. In 2002, our supporters helped add the farm to Harper's Ferry National Historical Park, averting plans for development that would have affected visitors' experience of the area's history and natural resources.  
[Read more: Trail-work tales from an Appalachian expert]
Encounter the mighty Delaware River at Mosier's Knob – Smithfield Township, Pennsylvania
The abrupt topography of the Delaware Water Gap National Recreation Area welcomes outdoor adventure of all kinds, within a short drive of millions of city residents in New Jersey and Pennsylvania. In 2009, Trust for Public Land supporters helped avert a planned subdivision at 550 acres on Mosier's Knob, a scenic property adjacent to the Delaware Water Gap, highly visible to hikers on the A.T. We transferred the land to the National Park Service, a crucial expansion for America's most visited national recreation area.
From the Appalachian Trail stop on the Harlem Metro-North line, hikers can hit the trail for a day, a week, or six months.Photo credit: Metro-North A.T. stop on Facebook
Take the train to the trail at Corbin Hill – Pawling, New York
Tens of millions of people live within an hour's drive of the A.T., but an isolated platform in the Hudson River Valley is the only place you can reach the trail by commuter train. Hikers in New York City make the most of it: on sunny summer weekends, hundreds of them hop on the train at Grand Central Station, and hop off an hour later for a day—or a week—in the woods. Many head for the Cat Rocks, a steep formation with the most prominent A.T. lookout in New York. Back in 2018, we helped permanently protect the landscape at Corbin Hill, a pastoral scene that dominates the view from the nearby summit.
[Read New York commuters' next stop: the Appalachian Trail]
Go full send at Owl's Head Cliff – Benton, New Hampshire
Just a half-mile off the A.T., the 600-foot granite escarpment of Owl's Head Cliff draws rock climbers from across New England. In 2007, we banded together with climbers and locals to transfer the spot to the White Mountains National Forest, ensuring permanent public access to this much-loved outdoor adventure destination.
Cast a lure at Jim Jeffords State Forest – Shrewsbury and Mendon, Vermont
Locals and thru-hikers alike have long treasured the deep woods and sunny meadows along the A.T. in central Vermont. Trust for Public Land supporters helped guarantee public access to places for hiking, skiing, hunting, and fishing with the creation of the Jim Jeffords State Forest in 2015. This 1,300-acre forest is named in honor of the late Senator Jim Jeffords, a local with a long legacy of caring for the land.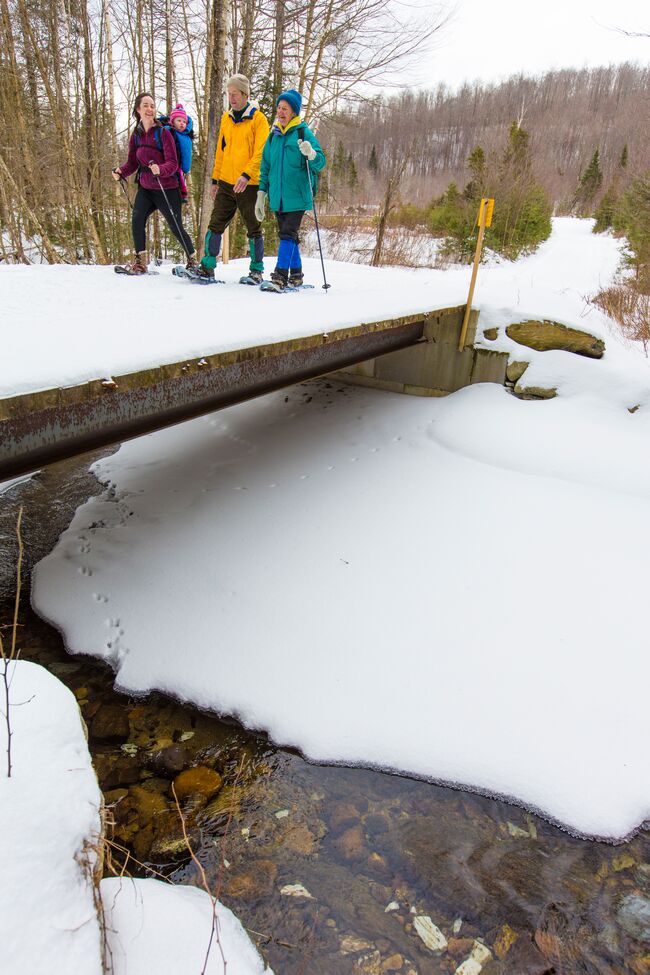 Jim Jeffords State ForestPhoto credit: Darcy Kiefel
Stop for a bite to eat near Mink Brook Community Forest – Hanover, New Hampshire
The A.T. is literally central to life in Hanover, New Hampshire—it runs right down Main Street. Locals are proud to welcome thru-hikers and anyone seeking an outdoor experience, and they're serious about protecting the values that make the trail great. We've worked alongside Hanover residents to preserve hundreds of acres along the trail as it passes through town. Just last year, we added to Hanover's A.T. landscape with the creation of Mink Brook Community Forest, creating a new link between downtown and the wilderness beyond.
[Read more: 2,620 reasons to celebrate improved protection for one of America's most beloved trails]
Launch a canoe on Bald Mountain Pond – Somerset, Maine
The cold, clear waters of Bald Mountain Pond welcome paddlers and anglers, while hikers on the A.T. skirt the shore, taking in views of the nearby Moxie Bald Mountain reflected on the pond's placid surface. Thanks to Trust for Public Land supporters like you, we helped the National Park Service and the State of Maine acquire this remote pond and its surrounding forest, protecting access to some of the most remote, scenic terrain along the entire trail.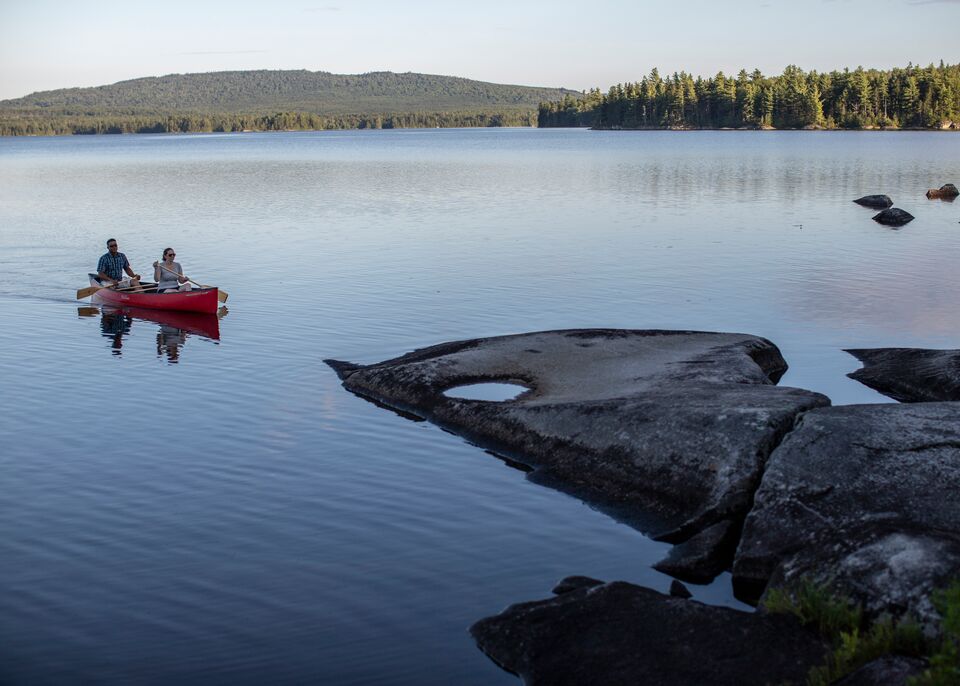 Paddlers, anglers, and hikers make the trek to remote Bald Mountain Pond in Maine for an incredible wilderness experience.Photo credit: Chris Bennett
Catch your breath at Katahdin Lake – Baxter State Park, Maine
Once the hulking shoulders of Mount Katahdin come into view, thru-hikers know their journey is nearly complete. The summit of Maine's tallest mountain is also the northern terminus of the 2,190-mile trail, offering a breathtaking panorama to reward day hikers and long-haulers alike. For generations, Maine's outdoor enthusiasts sought to protect the sparkling waters of Katahdin Lake at the mountain's base. But it wasn't until we helped add the lake to Baxter State Park in 2006 that this vision was achieved.
[Read more: On the Appalachian Trail, a summit reached and a promise kept]
These are just a few of the over 140 places where your support has improved public access to the A.T., benefitted the health and prosperity of communities along the trail, and preserved open space for climate resilience, clean water, and biodiversity. But we have more to do, and we need your help. Right now, we're helping communities protect places like a 360-degree viewpoint along the A.T. in Maine, dramatic white cliffs and a link in a growing network of backcountry huts in Vermont's Green Mountains, and a peaceful forest on the border of North Carolina and Tennessee. Join us today to help ensure the future of the Appalachian Trail for all.