How Cleveland's river recovered from its trial by fire
How Cleveland's river recovered from its trial by fire
This year, Clevelanders commemorated the 50th anniversary of the day the Cuyahoga River—which runs through the heart of the city—caught fire. We caught up with Shanelle Smith Whigham, our Ohio State Director, on the redemptive legacy of this infamous environmental disaster, and how we're making good on the promise of land for people in Cleveland, and around the country.
How could a body of water catch fire?
Back in 1969 it was perfectly legal to dump untreated waste from mills and factories right into the Cuyahoga. It was basically a dead river, choked with patches of debris and full of chemicals. All it took was some little spark, probably from a passing train, to ignite.
How did people react?
It barely registered locally. The Cuyahoga had burned a dozen times, and it wasn't the only industrialized river that caught fire in the 20th century. In many Ohio communities, the realities of living alongside industry are just a part of life. I grew up a block away from an oil refinery in Lima, Ohio. As a kid I couldn't tell you what a petrochemical was, but I knew that we'd get orders to boil our water every so often, or we'd hear loud explosions at the plant.
But a reporter from Time magazine happened to be there when the Cuyahoga caught fire in 1969. The story he wrote planted this catastrophe in the national consciousness at a time when the early environmental movement was gaining steam.
What was the result?
That a river could catch fire was an obvious indication that something was very wrong with our environment. This incident became a galvanizing example behind the creation of the Environmental Protection Agency in 1970, and the passage of the Clean Water Act in 1972, which made it a crime to dump untreated industrial waste into our nation's waterways.
Did the Clean Water Act alone solve the problem?
No single law can neutralize all the threats to our environment, or even to a single river. That's where The Trust for Public Land comes into this story: When you protect land, you also protect clean water by preventing pollution from roads, lawns, and industry. We played a key role in the creation of the Cuyahoga Valley National Park, which prevented development along miles of the river's banks above Cleveland, which has made a big difference for water quality.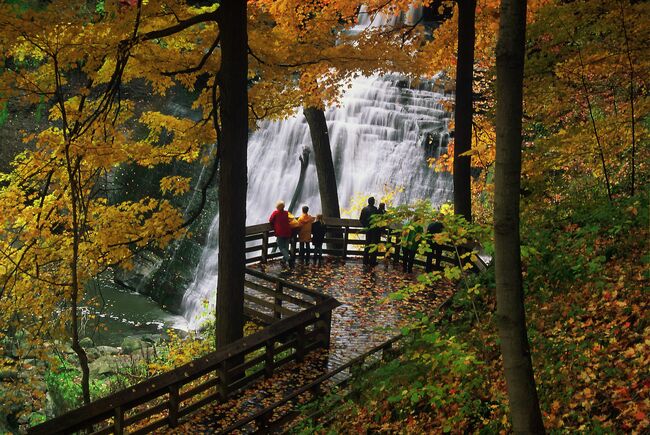 What difference does clean water make?
Now, people can play in and on lakes and rivers in Ohio. Our office is on the riverfront, and plenty of days we see people going by on kayaks or stand-up paddle boards, or just walking along the banks. You'd never have been able to do that fifty years ago.
In Cleveland, we're welcoming people back to the river by creating and connecting waterfront parks and trails. And because not everyone has equal access to nature, we're working first with communities that have been historically been denied green space and clean water—among so many other kinds of social capital.
What does that look like?
Take Lakeview Terrace, a public housing community near where the Cuyahoga flows into Lake Erie. The development is less than half a mile from the lake as the crow flies, but residents are cut off from the lakefront, and the surrounding neighborhood, by freeways and railroads. That isolation is a result of decades of investment and decisions being made by people in power, without taking the community's concerns into account.
What are you doing about it?
The neighborhood surrounding the development is undergoing lots of change and economic growth right now, but it's hard for Lakeview Terrace residents to just get there, and feel like they have a stake in that opportunity. So we're helping build trails connecting Lakeview Terrace to make it easier and safer for people to walk and roll to the lake, and to school and jobs.
Even within Lakeview Terrace, the common space hasn't been used or cared for. It's not what the community needs. So we're also working with residents to upgrade green spaces in the development, planting more trees and resurfacing the basketball courts with a new mural.
Every decision has been made hand-in-hand with the people who live at Lakeview Terrace and will use these spaces every day. They might not be the most dramatic changes at this stage, but that community engagement has its own benefits.
Like what?
The process of getting people together to make decisions about their surroundings is powerful. We're using our expertise to help Cleveland communities realize their own dreams, and decide what they want their environment to look like, and how to express what's important to them.
What keeps you going?
In my twenties, I was diagnosed with Hodgkin's lymphoma. My sister has it too—and I don't think it's a coincidence, given the environment we grew up in. My life's work is dedicated to ensuring that today's kids have a different reality than we did—that instead of seeing smokestacks, freeways, and rivers on fire, they see parks and bike trails, and can swim in the water.
Get More Stories Like These
Donate to become a member, and you'll receive a subscription to Land&People magazine, our biannual publication featuring exclusive, inspiring stories about our work connecting everyone to the outdoors.
Check Out More Inspiring Stories
See how our supporters are helping us connect people to the outdoors across the country.