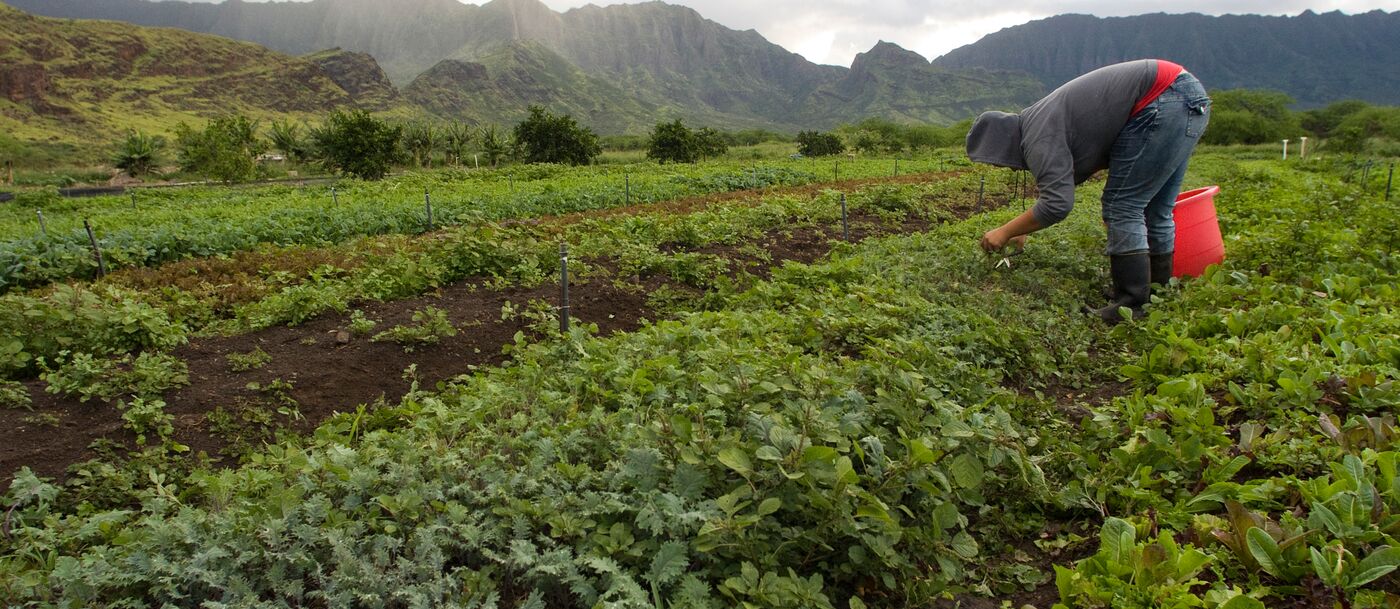 Hawaiʻi's largest organic farm gets more room to grow
The first shift at MAʻO Organic Farms starts at 5 a.m. It'll be a few hours until the sun rises over the Waiʻanae Range on Oʻahu's leeward coast, but the farmers—mostly in their late teens and early 20s—are awake and ready to work. They fan out into the rows of beets and kale and through orchards of citrus and ʻulu (breadfruit) trees, dragging hoses, pulling weeds, and harvesting and packing veggies for sale at markets around the island.
Fruits and veggies can be hard to come by here on Oʻahu's western coast, home to one of the largest Native Hawaiian populations in the islands—and, according to the U.S. Census Bureau, some of the highest rates of obesity and diabetes in the nation. Not coincidentally, health researchers describe Waiʻanae as a "food desert," where fast food chains outnumber grocery stores and families might have to travel a long way in search of fresh, healthy food.
MAʻO Organic Farms is fighting this problem with fresh, healthy food for their neighbors in the Lualualei Valley and farmers markets around the island. Along the way, the farm has shaped the future for the hundreds of local youth who've helped work the soil. (MAʻO is an acronym for the farm's full name, Māla ʻAi Ōpio—"youth food garden.")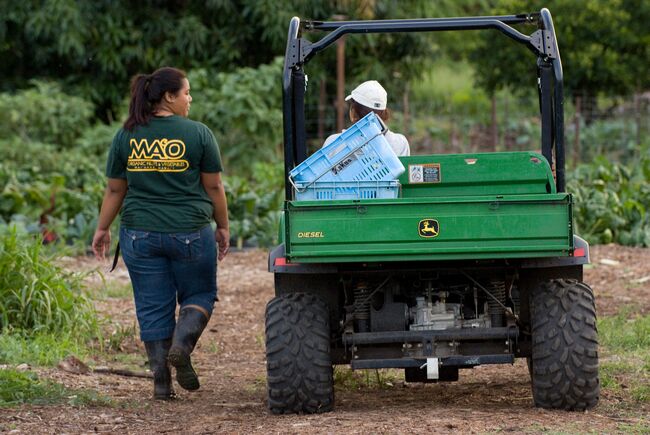 MAʻO youth farmers get to know the ins and outs of growing and distributing healthy food throughout their communities.Photo credit: Arna Photography, Inc.
Every year MAʻO enrolls local high school graduates in a two-year internship. Students work 18 hours a week, learning every stage of the organic farming industry: from planting and harvesting to packaging and sales. After a six hour shift on the farm in the morning, many of them head to class at the Leeward Community College, where they earn full tuition and a stipend in exchange for their work on the farm.
"We think about feeding our community with leaders as well as nutritional food," says Kukui Maunakea-Forth, who founded MAʻO back in 2001 as a five-acre operation run by 12 volunteer interns. "A farmer's knowledge and skillset goes far beyond knowing just agriculture—you need to know how to work with people, work with nature, make important decisions, and get your crop out there."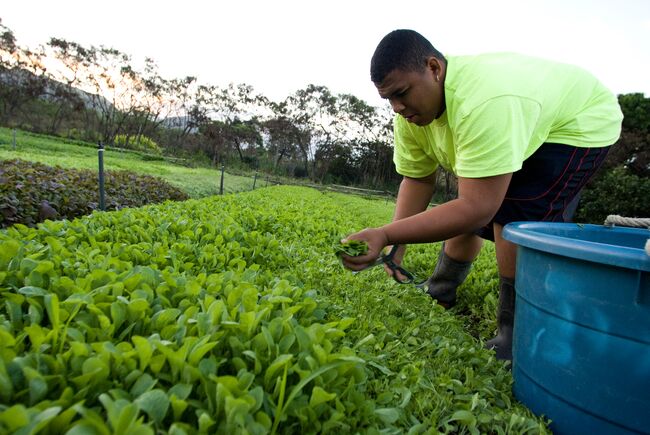 Since its founding in 2001, MAʻO Organic Farms has trained hundreds of Waiʻanae youth in farming and leadership. Photo credit: Anra Photography, Inc.
"To feed our community, we need more young people to step into role and responsibility of growing food," says Maunakea-Forth. That's where Trust for Public Land supporters like you come in.
Your donations have helped MAʻO steadily grow since its founding. In 2008, we helped the farm purchase 11 acres next door. In 2010, we joined forces again to purchase nearly 8 more acres nearby. And we recently helped them acquire 21 acres of rich, fertile farmland that otherwise might have been built up into an industrial park."This partnership The Trust for Public Land has been so important," says Maunakea-Forth. "Only they have the technical expertise to do these really complicated land deals."
Today, thanks in part to your support of The Trust for Public Land, MAʻO is the largest organic farm in the state, a sophisticated 281-acre operation powered by more than fifty intern farmers at a time. That means more fresh, healthy food for Waiʻanae residents, and more opportunity for the area's youth to grow and develop as farmers, students, and leaders.
ʻUlu, or breadfruit, was among the first trees planted on the new land managed by MAʻO's young farmers.Photo credit: MAʻO Organic Farms
ʻUlu, or breadfruit, was among the first trees planted on the new land managed by MAʻO's young farmers.
Among the first crop planted on the newly acquired land? Taro, the starchy vegetable that's a staple in traditional diets across Polynesia. Maunakea-Forth says that taro does more than offer a healthy, filling base for dishes like poi. In Hawaiian tradition, she explains, taro embodies Hāloa, the first-born son of Wākea, the sky father, and Papahānaumoku, the earth mother. "Hāloa is the elder brother of the Hawaiian people," says Maunakea-Forth. "Through their relationship, land was born, and from land, people were born. Hāloa was the sustenance, the nourishment, the connection between people and the land. That's what MAʻO is all about."