A sport for "athletes of all kinds"
A sport for "athletes of all kinds"
Even if you're not big on resolutions, the New Year is an opportunity to look at our health habits through fresh eyes. If you've got fitness on the mind but can't muster much enthusiasm for the same old treadmill slog, try breaking your workout free of the gym: your neighborhood park could be the place to pick up a new activity, and meet some new friends along the way.
Take it from Rick Matela, president of the Sugar Sands Pickleball Club in Mexico Beach, Florida: "The bulk of our members are just out here to exercise, have fun, and have some social time," he says. Pickleball—a hybrid of tennis, ping-pong, and badminton—is the fastest-growing sport in the country, especially among seniors.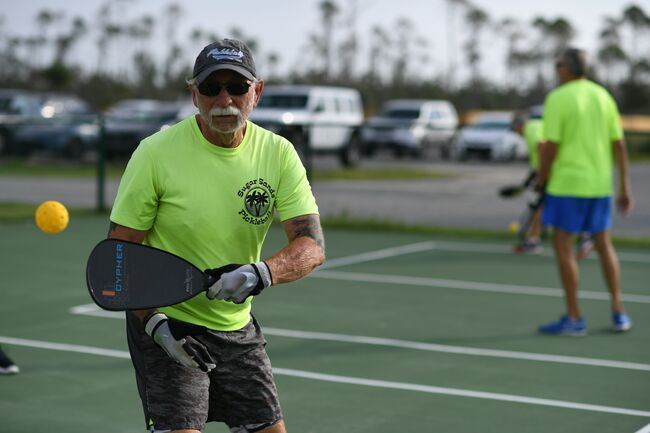 We're always interested in the latest trends in parks and recreation, so when we noticed more pickleball courts cropping up in parks around the country, we wanted to find out what this sport was all about. Matela explained the basic rules: the game is played with a paddle and a whiffle ball on a court about a third the size of a tennis court. Only the serving team can score points, and the serve is underhand, and unlike tennis, players are not allowed to hit volleys from a zone in front of the net called the "kitchen."
"Tennis is a game of power and speed," says Matela. "Pickleball is all about containment and control, and that makes it a lot more approachable for athletes of all kinds. Our particular group here is made up of most of our players are over 50. We have a big group in their 60s, and a small group in their 70s, and we have a couple players who are over 80." Many of the club's members played tennis when they were younger, but for others, pickleball is the first sport they've played regularly.
As for the origin of the sport's unusual name, accounts differ, but it's commonly attributed to the family who invented the game in the mid-1960s, who's dog was named Pickles.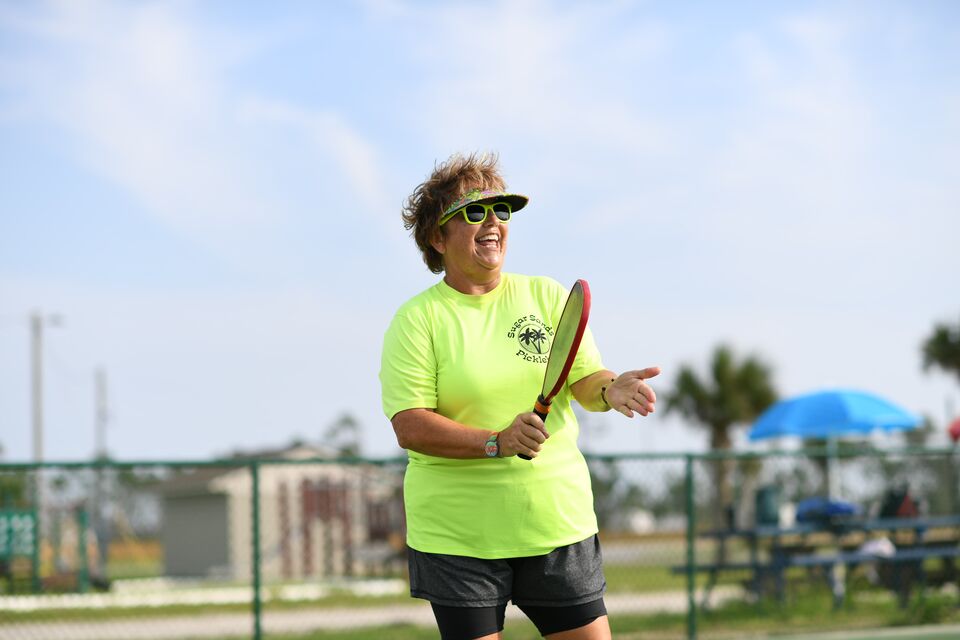 These days, the Sugar Sands Pickleball Club has about 120 members who gather on the courts at a park in Mexico Beach, Florida, twice a week for a few hours. Matela helped start the club a few years ago, back before their local park had dedicated pickleball courts. They started with a portable net and chalk for marking the lines, and spent a few years toting that kit around, until the city picked up on the growing demand for pickleball facilities and decided to mark a few dedicated courts.
"The sport is almost growing too fast," says Matela. "The court space we have can't keep up with the demand." So the club's members are looking forward to the brand-new pickleball courts at nearby Salinas Park—one of the five shoreline parks in the Florida Panhandle region that we're building with funding from the Deepwater Horizon disaster settlement.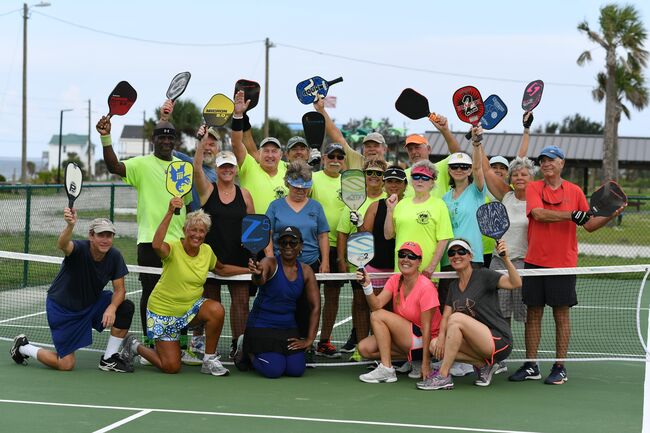 It's been a great way for Matela and his wife to meet new people and make friends, once they retired to the area from New York City. "We'll get together off the court several times a year, for a beach having a bonfire, a Christmas party at someone's house, or something like that," he says. For players across the country, that welcoming atmosphere and the chance to socialize are as much a part of what draws them to the game as the actual sport itself.
"My wife, she's not an athletic person. She never played many sports," Matela says. "But I can tell you one thing: she's addicted to pickleball."
Get More Stories Like These
Donate to become a member, and you'll receive a subscription to Land&People magazine, our biannual publication featuring exclusive, inspiring stories about our work connecting everyone to the outdoors.
Check Out More Inspiring Stories
See how our supporters are helping us connect people to the outdoors across the country.