#SaveLWCF to help cities reach green space goals
#SaveLWCF to help cities reach green space goals
It's been a promising week for public lands on Capitol Hill: on Tuesday, the Senate Energy and Natural Resources Committee approved a bill that that would permanently reauthorize and fully fund the Land and Water Conservation Fund (LWCF). LWCF officially expired on Sunday at midnight, but the Senate committee's vote puts us one big step closer to our goal of permanent reauthorization and full funding for this crucial program.
And just last week, California Senator Kamala Harris introduced a bill that would permanently direct LWCF funds to help local governments build and upgrade city parks, specifically in low-income, urban communities. Senator Harris's bill would ensure the future of the Outdoor Recreation Legacy Partnership, an LWCF program created in 2014 to build and improve parks where they're needed most.
Programs like this are crucial to realizing our vision of a great park within a 10-minute walk of everyone in America. Here are a few communities where we're already using LWCF support to help connect people to nature, and each other.
Kellogg Park – Ventura, California
This brand-new two-acre park opened with a big neighborhood party this April. It was a much-needed celebration for a community that got caught up in the massive Thomas Fire only months before. "We're so looking forward to something positive and good in the neighborhood. Kellogg Park is a sign of growth, where we can get together and celebrate something we achieved together," said one neighbor. "It's huge. It'll be a big help in our community moving forward." More than 5,000 people live within a 10-minute walk of this new park.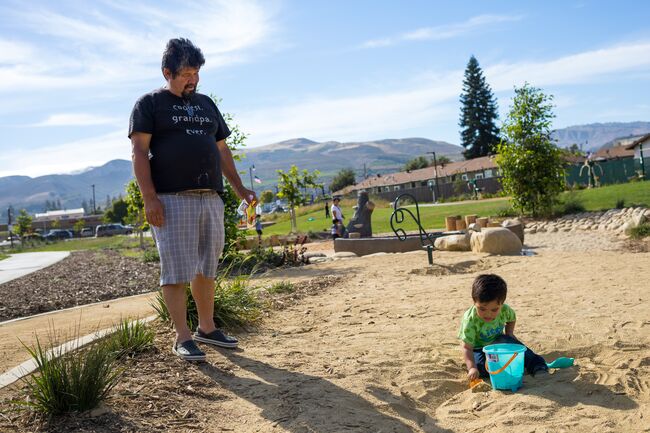 Jesse Allen Park – Newark, New Jersey
We've been working with Newark residents for more than a decade to totally revamp this eight-acre park. Today Jess Allen Park welcomes kids' sports teams and neighborhood pick-up games with an outdoor gym, basketball and tennis courts, a skate park, and a playground. The final phase of the project—replacing battered fields with durable turf—is moving ahead thanks to a grant from the Outdoor Recreation Legacy Partnership (ORLP).
Johnson Oak Park – Bridgeport, Connecticut
Johnson Oak Park is one of the few places where kids growing up in the East End section of Bridgeport can get outside and play. The park has an interesting history: it's named for the Johnson Oak, a massive, gnarled white oak that was once hailed as Connecticut's oldest living resident. The tree was felled by a storm in the 1970s, but its memory lives on in this tight-knit neighborhood. Using funding from ORLP, we've worked with East End residents and the students at nearby Jettie S. Tisdale School to upgrade Johnson Oak Park, and we're looking forward to a grand opening celebration later this fall.
Montbello Open Space Park – Denver, Colorado
Located in a dense, diverse Denver neighborhood where a quarter of residents live below the poverty line, Montbello Open Space Park is a once-vacant lot being restored to native prairie with trails, artwork, and interpretive displays—not to mention a cool custom rock climbing boulder. The park, funded by ORLP, will also be the new headquarters of a local outdoor education center, Environmental Learning for Kids—whose students helped design the park and climbing boulder themselves.
If you believe that we all need parks, please join us for National Walk to a Park Day on October 10. Pledge to join this day of action, and you'll be entered in a drawing to win an outdoor gear prize package from L.L.Bean and an "America the Beautiful" national parks pass. Even better, for every pledge, Hydro Flask's Parks for All program will donate $1 to build parks where they're needed most.
Learn more and pledge at tpl.org/walktoaparkday.
Get More Stories Like These
Donate to become a member, and you'll receive a subscription to Land&People magazine, our biannual publication featuring exclusive, inspiring stories about our work connecting everyone to the outdoors.
Check Out More Inspiring Stories
See how our supporters are helping us connect people to the outdoors across the country.