Recipes for your next barbecue, from growers we know and love
Recipes for your next barbecue, from growers we know and love
Don't show up empty-handed to your Fourth of July festivities! Check out our collection of fresh summer recipes from growers we've met while protecting farms and gardens all over the country. Whether you're pitching in for a potluck or taking charge of the full menu, we've got you covered with fast, fresh dishes from sustainable farms.
Salad: Ensalada de childes asado (charred pepper salad)
From Rio Grande Farm Park in Alamosa, Colorado
The San Luis Valley is one of the most productive farming regions in Colorado, but almost all the food grown here is shipped elsewhere. So locals established a public farm and park where families can grow their own healthy, affordable food—and pass on traditional recipes and practices from the community's Guatemalan heritage.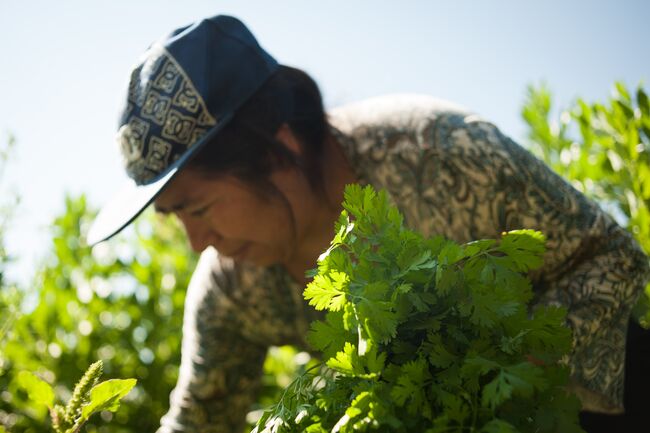 Ingredients:
6 sweet bell peppers; 1 yellow onion, peeled and halved lengthwise; 1 tbsp. parsley, chopped. DRESSING: 2 tbsp. red wine vinegar; 4 tbsp. olive oil; 1 tsp. chopped garlic; salt and pepper to taste.
Char peppers on a grill until skins blister. Let cool, then peel and julienne. Combine dressing ingredients and blend until smooth. In a medium bowl, toss peppers and onions with dressing and parsley. Let sit 20-30 minutes before serving.
Side: Vegetable fritters
From Ann Walton, Zena Springs Farm School in Salem, Oregon
The students at Zena Springs Farm School learn how to whip up a batch of these tasty pancakes using vegetables they've planted, tended, and harvested.
Ingredients:
1 ½ lbs. zucchini or any summer squash; 2 or 3 ears of corn; 2 eggs; 1/3 c. cold water; 1/3 c flour; 3 tbsp. finely diced onions; ¼ tsp. ground cumin; 2 tbsp. oregano, parsley, or basil, chopped; olive oil; salt and pepper
Grate the squash onto a clean towel. Sprinkle with salt and let rest 10 minutes, then squeeze excess liquid out. Boil the corn for 1-2 minutes and cut the kernels off the cob. In a medium bowl, whisk eggs, water, and flour. Add squash, corn, onion, cumin, pepper, and herbs. Mix gently and salt to taste. Heat a tablespoon of oil in a skillet on medium-high. Spoon 2-tablespoon mounds of batter into the pan and flatten gently with spatula. Cook until fritters are golden brown, 4 to 6 minutes each side. Serve with fresh salsa or Greek yogurt.
Soup: Easy tomato gazpacho
From Sherrill Janeiro, volunteer at the Coogan Farm Giving Garden in Mystic, Connecticut
This small but mighty community garden produced 15,000 pounds of fruits and vegetables for local food banks last year. With each delivery, the farmers include printouts of seasonal recipes like this one.
Ingredients:
2 large tomatoes; 1 large cucumber; 1 onion, peeled; 1 bell pepper, seeds removed; 24 oz. can of tomato juice; olive oil; ½ c. red wine vinegar; 1 tsp. salt; black pepper; 1 clove garlic, minced; ¼ c. chives, minced.
Blend all ingredients until smooth. Cover and chill for at least 2 hours. Leftovers keep 5 days in the refrigerator.
Main: Mango barbecue sauce
From the farm stand at Turtle Bay Mauka farmlands on the North Shore of Oahu
Ninety percent of food consumed in Hawaii is grown somewhere else. So we worked with farmers to preserve some of the most fertile land on Oahu, helping contribute to a more secure and sustainable food system for the island's residents and visitors.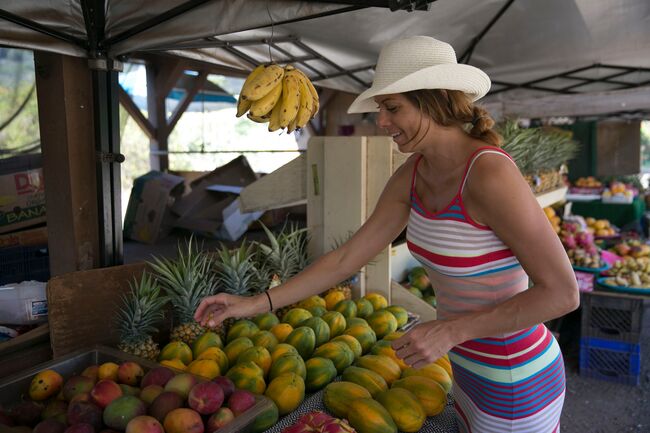 Ingredients:
4 ripe mangoes; 2-inch piece fresh ginger; 2 garlic cloves; 1 tbsp. mustard; ½ c. soy sauce; 2 tbsp. vinegar; ¼ each: orange juice, olive oil, honey; 3 tbsp. brown sugar, 1 tsp. Worcestershire sauce; fresh or dried rosemary; 1 hot chili pepper; salt and pepper to taste.
Remove mango skin and pit. Mince ginger and garlic. Blend all ingredients until smooth. Transfer to a stock pot and heat to boil, then reduce heat and simmer until thickened to desired consistency. Season with salt and pepper. Great on pork, chicken, fish, or burgers.
Dessert: Swanton strawberry rhubarb pie
From Jim Cochran, farmer and owner at Swanton's U-Pick Berry Farm in Davenport, California
The Swanton's farm stand is a magnet for visitors winding their way down the scenic Pacific Coast Highway, through a stunning section of the California Coast protected with help from people like you.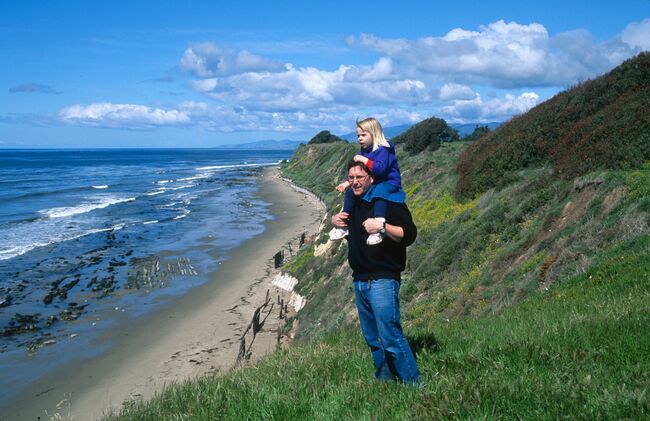 Ingredients:
CRUST: 2 ½ c. flour; ½ tsp. salt; 1 c. chilled butter. FILLING: 2 ½ c. strawberries, quartered; 1 c. rhubarb, sliced into quarter-inch sections; 3 tbsp. orange zest; Juice of one orange; 2 tbsp. flour; 1 c. sugar. GLAZE: 1 egg yolk; 1 tsp water or milk; sugar.
Combine dry ingredients for crust in large bowl. Cut in butter until mixture is crumbly. Slowly add water until dough forms a ball. Cover and chill at least five hours. Roll dough onto floured surface. Cover pie pan evenly with dough. In a separate bowl, combine filling ingredients. Fill pie shell and cover with remaining dough, sealing edges with a fork. Whisk glaze, then paint onto crust. Bake at 400°F for 20 minutes, then reduce to 350°F for 20-25 minutes until pie is golden and bubbling.
We want to hear from you! What are your go-to recipes for summer cookouts? Let us know in the comments!
Get More Stories Like These
Donate to become a member, and you'll receive a subscription to Land&People magazine, our biannual publication featuring exclusive, inspiring stories about our work connecting everyone to the outdoors.
Check Out More Inspiring Stories
See how our supporters are helping us connect people to the outdoors across the country.