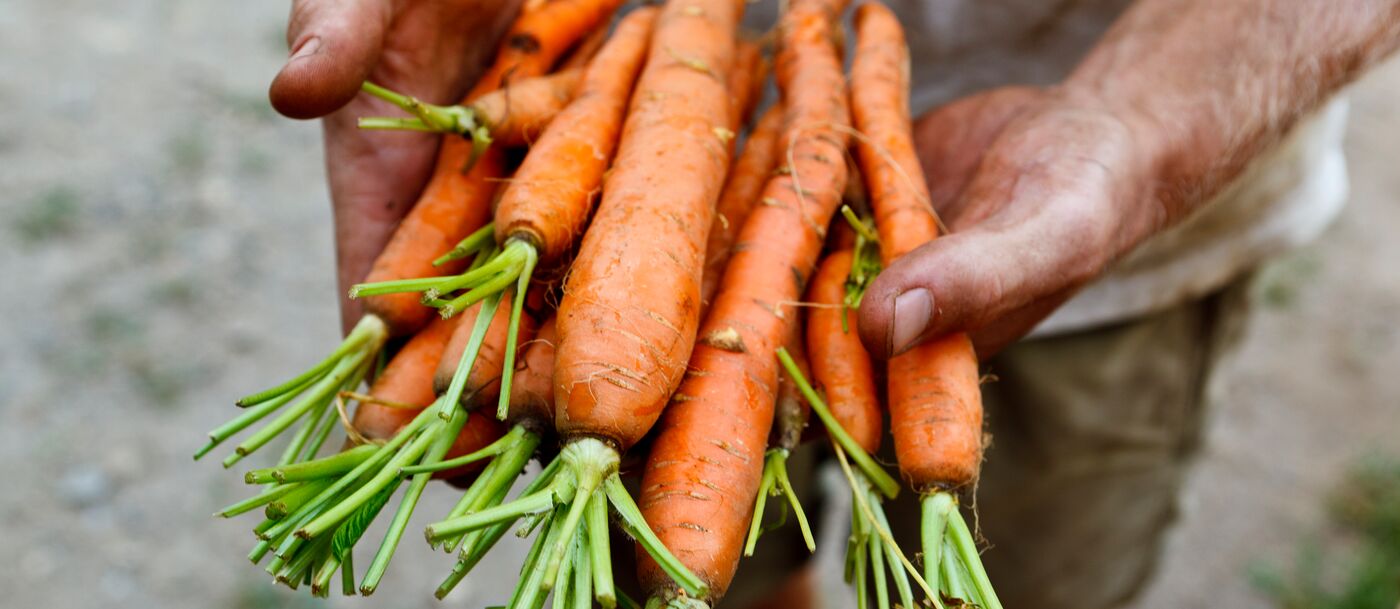 400 years old, a Connecticut farm still feeds the hungry
Residents of Stonington, Connecticut, fought a long campaign to conserve Coogan Farm—a peaceful, rural property on the banks of the Mystic River. Once the land was successfully protected in 2013, they faced a new question: how to make the most of it.
Coogan Farm Giving Garden.mp4
"We were debating how best to keep the 400-year-old legacy of sustainable agriculture alive on Coogan Farm, and do it in a way that would best serve our community," says Maggie Jones. She's executive director of the Denison Pequotsepos Nature Center, which worked with The Trust for Public Land to purchase and protect the farm and now manages it as a public park and preserve.
"Hunger is a growing issue globally, but we also know that 23,000 people face food insecurity right here in New London County," Jones says. To help change that, the nature center launched Coogan Farm's Giving Garden, which supplies fruit and vegetables to 90 different community food banks.
The Giving Garden at Coogan Farm punches way above its weight: though it only covers an acre of land, it grew 15,000 pounds of food last year.Photo credit: Denison Pequotseupos Nature Center
"Food banks typically distribute shelf-stable food, so it's important to provide fresh, healthy, in-season vegetables to our neighbors in need," says Craig Floyd, the Giving Garden's full-time farmer. "Folks are pretty happy to take home our spinach, kale, tomatoes, or carrots. There's a big need in our area, and the Giving Garden is helping meet it."
Floyd brings generations of local know-how to the garden: his family has been farming along the Mystic River since the early 1700s. Before starting the Giving Garden, Floyd  ran Connecticut's first Certified Humane Farm—but for him, it made sense to make the switch. "I shut my farm down and came over here because it was more important for me to feed our neighbors than to put money in my pocket," he says.
Floyd extends the same spirit of compassion to the land he cares for. "It's not a real common stance, but to me, a plant is a living, breathing, thinking entity. It has the capability to do so much more than people understand," he says. With that in mind, Floyd is out to demonstrate that it's possible to produce big yields without chemicals or tilling—two common commercial techniques that he says harm the soil over time.
Farmer Craig Floyd, left, teaches volunteers regenerative farming techniques at the giving garden.Photo credit: Maryrose Conklyn
"We're a no-spray, no-kill farm. If I can't put it into my mouth, it won't go in our garden," he says. "You can outsmart it for a little bit with chemicals, but if you do things the way nature wants, you'll be rewarded with great production." So far, his theory's holding up: the Giving Garden spans only a quarter-acre, but last year produced 15,000 pounds of fruit and vegetables.
For his part, Floyd believes that a carefully tended garden yields something more than produce—"a natural feeling of euphoria," as he puts it.
"We had veteran walk in a few years back and he said, 'Mind if I walk around?' I'm a veteran myself—I did two tours in Vietnam and spent 20 years in the Army—so I said, 'Your garden, brother, please make yourself at home.'"
After a few minutes of strolling through the rows, the young man came back and found Floyd at work in the soil. "He said, 'I just came back from my third tour in Afghanistan, and something is happening here that I don't understand. I haven't felt this calm in years.'" With Floyd's help, the man went on to start a farm of his own, which he now operates full-time.
"We're growing food to help people that need it, and the community that we've formed here has changed people's lives," says Floyd. "That's the power of our little garden."
We need your help to save great places like Coogan Farm. Join the movement at tpl.org/parks-unite-us.