The mother-daughter duo making great strides on the North Country Trail
The mother-daughter duo making great strides on the North Country Trail
Laurie and Andrea Kass are on a mission. The mother-daughter duo from Marquette, Michigan, aim to hike at least 100 miles on the North Country Trail this year. "When we first started hiking together a few years ago, Andrea could go maybe a half-mile—a mile, tops," says Laurie. "Now she's up to seven miles at a time, so she's really made huge progress in distance, endurance, adventure, and initiative."
Andrea, 29, has autism and doesn't speak or write. "And I surely don't talk much on our hikes, so the silence and the rhythm of our footsteps make for a very peaceful and calming experience," says Laurie. "Andrea lives in assisted living with five other ladies and round-the-clock staff, so life can be hectic with constant activity most of the time. It can be overwhelming, and the quiet of the woods is a comfort."
"Hiking is one of the few things we can really make a connection doing together," says Laurie. "And she's good at it! She's a great hiker, she likes doing it, and I can tell how good it is for her mind and body."
Stretching 4,600 miles from eastern New York to the middle of North Dakota, the North Country Trail is the longest national scenic trail designated by Congress. Though it traverses some of the most populous states in the country, the trail finds the peaceful places—whether on a windblown shore of a Great Lake, or a forested path just a few minutes from home. It passes through ten national forests, four national parks, two national wildlife refuges, 57 state parks … and within a quarter-mile of Laurie's house.
To reach their hundred-mile goal, Laurie and Andrea sometimes take weekend trips to North Country Trail segments in places like Grand Marais or the Pictured Rocks National Lakeshore. But their favorite sections, which they revisit time and again, are close to home.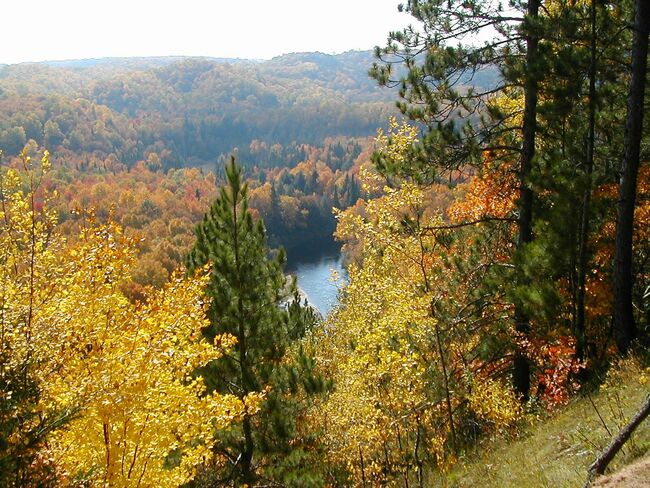 "Andrea does a little better when she's familiar with the route," says Laurie. "When it's a place we know, she'll even take the lead, and it's really neat to see her know her way around and be confident in the woods."
Andrea and Laurie's journey is just one of the countless reasons we've long worked to protect important places like the North Country National Scenic Trail. As we celebrate National Trails Day this Saturday, we want to hear your stories! Let us know which trails you return to again and again—and which trails you can't wait to explore next.
A version of this story appears in "Choose Your Own Adventure," our feature story about the National Trails System in the latest issue of Land&People magazine.
Get More Stories Like These
Donate to become a member, and you'll receive a subscription to Land&People magazine, our biannual publication featuring exclusive, inspiring stories about our work connecting everyone to the outdoors.
Check Out More Inspiring Stories
See how our supporters are helping us connect people to the outdoors across the country.