In a global city, this soccer tournament's goal is a warm welcome
In a global city, this soccer tournament's goal is a warm welcome
Som Subedi will tell you he had a lot to learn when he moved to Portland, Oregon, in 2008. He didn't speak much English, didn't know how to use public transportation or apply for jobs, where to buy food, or access social services. That's because his family was among the 100,000 people expelled from Bhutan by a repressive political regime in the early 1990s, and Subedi had grown up in a refugee camp in Nepal—"a life without hope, opportunity, or a meaningful future," he says.
But amid the confusing period of adjustment to his new life in an American city, there was at least one thing that made perfect sense: playing pickup soccer at the park down the street from his apartment. Subedi had played, coached, and refereed for most of his life back in Bhutan, so as he got to know his new neighbors, he naturally invited them to join him a few nights a week down at the park. "We were Bhutanese, Russian, Iraqi, Somali, all kind of people living in that building," Subedi recalls. "But everybody plays soccer. Soccer is how I made friends in America. It's how I got connected."
Subedi found a job in a factory, his English improved, and he started to feel more at home in Portland. But he never forgot the struggle of the early days, and he never stopped playing soccer. At pickup games, his new friends and neighbors—many of whom were refugees and immigrants like himself started talking about how they could share their experience to make the transition easier for new arrivals—especially youth.
"Playing soccer is what helped me build a community, and I knew how important that was to me finding happiness and a life here," Subedi says. With one in five Portland residents now born in another country, Subedi saw an opportunity in the game to help immigrant kids make friends and get healthy exercise—the same reasons any parent cites for signing their kids up for a sport. "But in America, organized soccer is expensive," says Subedi. "Between cleats and uniforms and registration fees and travel, a lot of parents, especially those who just arrived, don't have means to sign their kids up to play."
So in 2010, Subedi and Portland Parks & Recreation organized the first Portland World Cup—a soccer tournament geared toward youth players from refugee and immigrant families. It has since grown into an annual tradition: this year's tournament saw two dozen girls' and boys' teams compete across three divisions. Some teams' players come from the same part of the world, while others' rosters represent as many nationalities as there are positions on the field. Subedi says that across just two of this year's teams from Southeast Portland, he tallied at least 23 languages spoken—"Then I got tired and stopped counting," he laughs.
To prepare for the tournament, teams spend spring and summer months practicing together twice a week. Teams are sponsored by city agencies like the fire and police departments, with employees volunteering to coach and the city covering the cost of uniforms, bus passes, and field space for practice. That means that participation is free for every player.
In 2015, the Portland Parks and Recreation Bureau hired Subedi full-time to run Parks for New Portlanders, a program that aims to make Portland's public green spaces welcoming and accessible to refugees and immigrants. Subedi hires a team of part-time youth ambassadors—immigrants themselves—to help organize the Portland World Cup and other events, like concerts and dance performances. The outreach ambassadors fan out across the city to community gardens, ethnic grocery stores, mosques and churches, schools and parks, to invite kids and their families to participate.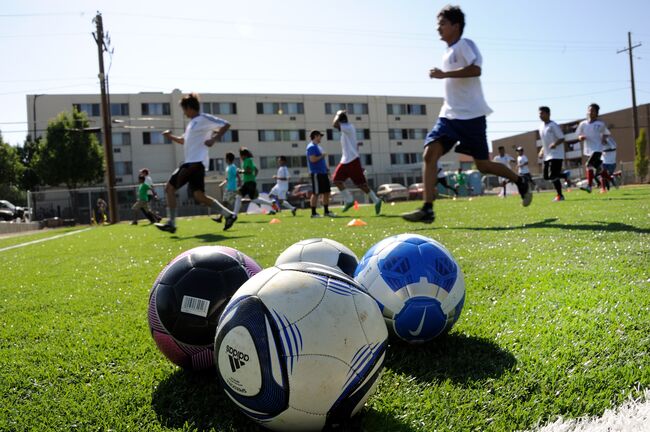 Subedi says the Portland World Cup helps refugee and immigrant kids get their feet under them—and not just while they're in cleats. Beyond the field, the soccer program also helps build bridges between new Portlanders and city resources that can help them thrive in their new home. "Many refugee and immigrant families are fleeing oppressive regimes and have good reasons not to trust the government—or even feel comfortable gathering in the public square," he says. "That was me when I first arrived here, so I identify with that fear."
For Subedi and others like him, that's the power of "the beautiful game": fears and struggles fade away, lost to the rhythm of play. As this year's tournament wound down, the winning teams smiled for photos showing off their medals, and hundreds of players shucked off grass-stained cleats, high-fived their opponents, and reached for the post-game snacks.
Get More Stories Like These
Donate to become a member, and you'll receive a subscription to Land&People magazine, our biannual publication featuring exclusive, inspiring stories about our work connecting everyone to the outdoors.
Check Out More Inspiring Stories
See how our supporters are helping us connect people to the outdoors across the country.