On the California coast, a small town gains a monumental advantage
On the California coast, a small town gains a monumental advantage
July 10 is the last day to submit your comments on the national monuments review!
There's no easy way to get to Point Arena: the three-hour drive from San Francisco hugs the hair-raising curves of Highway 1 along the Northern California coast. But those who make the trek are rewarded with something special. This tiny town is the gateway to the Point Arena-Stornetta unit of the California Coastal National Monument—an expanse of rugged coastline, breezy prairies, and deep groves of cypress, Douglas fir, and redwoods.
Point Arena-Stornetta was added to the California Coastal National Monument in 2014, thanks in part to a key acquisition by The Trust for Public Land. There's a network of hiking trails, hidden pocket beaches, and miles of dramatic coastline—riddled with stone arches, caves, and pinnacles. And with outdoor enthusiasts keen to explore the Northern California Coast, Point Arena locals say unlocking the land has breathed new life into their economy.
"Point Arena has always been about these cycles of boom and bust," says Leslie Dahlhoff, who served 11 years as the town's mayor. "For a hundred years it's been fishing and logging—but by now, most of the big timber has been cut, and the commercial fisheries are hard to predict. I've been here since 1989, and it's often felt like the economy has been barely hanging on. A lot of businesses didn't make it. You'd see a lot of empty storefronts downtown. But with the monument, suddenly there's all this unexplored land for people to come enjoy. Tourism is picking up the slack in the economy."
City Manager Richard Shoemaker agrees. "We're definitely big fans of the monument from an economic standpoint," he says. He cites a 20 percent jump in revenue from sales tax—and 29 percent from the hotel occupancy tax. With that boost, Shoemaker has been able to add city staff to projects like park and street improvements and sprucing up the downtown corridor. "We're a bit unique on this part of the coast in that our municipal budget can now operate in the black. There's a lot of buzz and excitement about these changes, and we draw a direct line from that to them opening the national monument and the attention that it's getting in media across the country."
"It's been a really cool evolution to see," says Lisa Giacomini, who owns a catering operation serving locally harvested fish. "New businesses, new people—there's a whole new vibe downtown. The national monument is bringing people who are reinvigorating our town in so many great ways."
Laura Cover, who's working to open a hotel in town, has helped channel that energy into the Point Arena Merchants Association. She says the organization has grown from about five business owners before the expansion of the national monument to more than 60 today. "There's clearly more traffic coming through," she says. "Businesses are doing more business. The monument is bringing people here, and we merchants in town are really looking to make the most of this and support each other."
Not to mention, Cover adds, it's a great place to get outside. "My daughter teaches 6th grade in town. She can round up her students, stroll down to the end of School Street, and they can be out on the trail in nature in moments. It's a great thing for people who live here to have access to."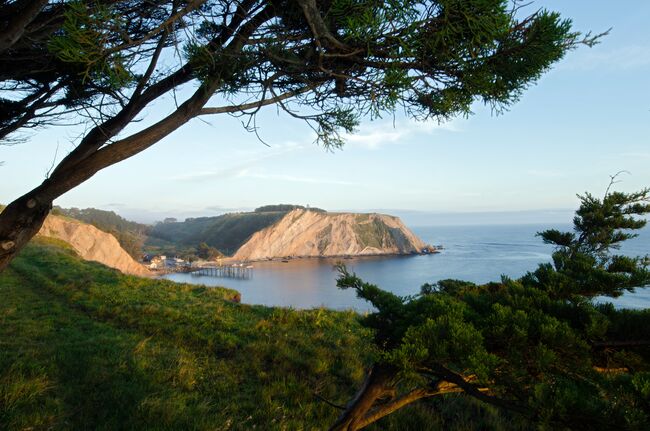 For Dahlhoff, the former mayor, the national monument is the key to a stronger, more stable local economy. "We are closely tied to the land and our natural resources here. And it's still a working landscape—the harbor is a commercial harbor, and ranchers graze cattle on the monument. But now visitors to the national monument represent this new and sustainable way for us to make the most of our land and its beauty."
"The addition to California Coastal National Monument was an incredibly beneficial thing for Point Arena as a community and the North Coast as a whole," says Mark Hancock, executive director of the organization that manages the historic Point Arena Lighthouse—once a U.S. Coast Guard outpost, now open to the public for tours and overnight stays. "I believe it has drawn our people to the coast and imbued a love and valuation of the coast in people who might not otherwise have had it."
But Hancock isn't alone in worrying about the monument's future. "I get asked by visitors four or five times a week while they're standing here at the lighthouse looking out at the ocean, 'Is anybody ever going to be able to drill out there?' I used to answer, 'Nope, we're safe—it's a national monument, so it's protected forever,'" he says. "But the way things are going in Washington, it saddens me that I might have to change that answer some day."
If you believe that public lands matter to communities like Point Arena, now's the time make your voice heard. Submit a comment to the Department of Interior by July 10 and tell them you oppose any attempts to weaken our national monuments—or learn more about the administration's review of national monuments here.
Get More Stories Like These
Donate to become a member, and you'll receive a subscription to Land&People magazine, our biannual publication featuring exclusive, inspiring stories about our work connecting everyone to the outdoors.
Check Out More Inspiring Stories
See how our supporters are helping us connect people to the outdoors across the country.