A Minneapolis bike artist puts a new spin on the carousel
A Minneapolis bike artist puts a new spin on the carousel
Brandon Brown's approach to building bikes is as much a life philosophy as it is a principle of mechanics. "When your system is stiff, if one thing goes off—that creates friction, and friction binds," he says. "Building some flexibility into the system makes the whole thing run smoother. Looseness makes it robust."
Brown—a self-taught artist, engineer, and entrepreneur—owns Onyx Cycles in Minneapolis, known throughout the Twin Cities for its inventive riffs on the basic idea of a bicycle. His pedal-powered creations might be decked out with trailers, speakers, lights, folding tables, coolers, or solar panels. "My bikes have some weirdness to them, so people are drawn in," Brown says.
That makes these wheeled contraptions popular features of community events like art walks and farmers markets around the Twin Cities, especially in Brown's home neighborhood of North Minneapolis. "Kids love them. Everywhere I go with them, kids are like, 'Let's go jump on these fat, weird bikes!'"
Brown, who's raising a two-year-old son, also teaches bike maintenance and design to neighborhood kids: he likes that bikes can bring people together and get them active outside. But in North Minneapolis, that's not always easy to do. Although Minneapolis boasts the best urban park system in the country, according to The Trust for Public Land's ParkScore® index, in Brown's neighborhood residents still lack easy access to green space.
"People in our neighborhood face barriers to healthy living that those in other parts of the Twin Cities don't," says Kristen Murray with Juxtaposition Arts, a North Minneapolis-based art and urban design nonprofit. "Gym memberships might not be affordable, and many people expressed that they don't feel safe in the parks and public spaces that exist."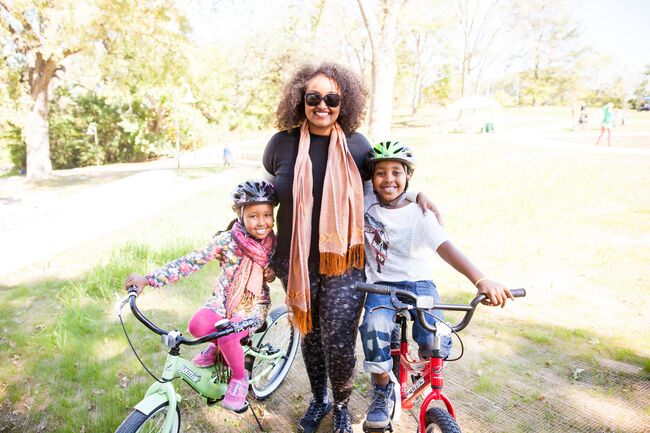 To help change that, The Trust for Public Land has teamed up with Juxtaposition Arts and Blue Cross and Blue Shield of Minnesota Foundation to help North Minneapolis residents imagine and create safe, welcoming public spaces—starting with surveys and community events to get people talking. "We learned that residents loved the idea of creating a free public fitness facility in a park," Jenna Fletcher with The Trust for Public Land. "But they also wanted to make sure that whatever we built would reflect the neighborhood's unique identity and community spirit. Residents came up with this idea of building a carousel powered by people instead of motors."
It was just the right kind of challenge for Brown. "I'd never built a carousel made of bikes before, and it's not like there are a lot of them out there to copy from," he says, "but that fits my style—to take a big idea and tinker with it piece by piece until it comes together."
Brown partnered with Twin Cities artist Christopher Lutter-Gardella—and turned to the neighborhood kids for decorating ideas. Like a traditional carousel, this one includes images of animals—but these are bright, colorful cutouts of wildlife made from recycled soda bottles. The center pillar bears an excerpt from Saidiya Hartman's book Lose Your Mother: A Journey Along the Atlantic Slave Route, reflecting the community's desire to feature themes of ancestry and heritage in the artwork.
When it came time for construction, Brown says he relied on trial and error. "I spent like a month trying to design this thing on a computer. But it's a pretty complex system—all the arms, bikes, and gearing, and it needed to work even if it's not on perfectly even ground—so it was really a matter of making something, trying it, and if it didn't work, going back to the shop to try something else. I may not have a conventional way of doing things, but my way of doing it usually works in the end."
Since the people-powered carousel debuted in 2016, it's become a neighborhood mainstay. "Its most frequent users are kids on the block. There aren't many kid-friendly spaces, so having this whimsical, family-friendly thing for playful fitness has had an impact," says Murray. "It's pushing us to think about what else we can do to make it easier and more fun for people to exercise."
Get More Stories Like These
Donate to become a member, and you'll receive a subscription to Land&People magazine, our biannual publication featuring exclusive, inspiring stories about our work connecting everyone to the outdoors.
Check Out More Inspiring Stories
See how our supporters are helping us connect people to the outdoors across the country.