For imagining better parks, art works
For imagining better parks, art works
Some parts of park design–setting the right width for a walking path, using landscaping to prevent flooding—are more like a science. But creating a place that feels inspired? That's an art.
That's why The Trust for Public Land partners with artists to help neighbors get creative during the planning process. Before we break ground, we host months of block parties, brainstorming sessions, and other gatherings—often with more craft supplies than blueprints. Art fuels conversation, which pays off in the long run: after all, we know people are more likely to use and care for places they helped dream up themselves.
"When people hear 'planning meeting,' the first picture that comes to mind is someone at the front of a room in a suit pointing to a chart on a poster board," says Terry Valdez, an artist we're working with to remake parks in Wenatchee, Washington. "But when we include an art project at a meeting, suddenly people are talking to each other, helping each other, asking questions, sharing ideas—art can make planning a park a really fun, fruitful, organic experience."
Here are just a few Trust for Public Land projects in the works with some extra artistic flair.
1. All aboard
At Southwark School in Philadelphia, a team from the Mural Arts Project invented a board game to help students, parents, and neighbors come up with ideas for the school's future playground. It's been described as a cross between Monopoly and Apples to Apples—with a park-themed board and fill-in-the-blank cards that prompt players to imagine the schoolyard of their dreams. Planners keep track of the game's outcomes, and are incorporating suggestions generated through the game into the new playground's design.
2. Drawing conclusions
In Wenatchee, an agricultural community in eastern Washington, Terry Valdez brings hands-on art projects to planning sessions for Kiwanis-Methow Park—an underused green space slated for a redesign. At one event, neighbors painted plastic flowers to brighten up the chain-link fence. Valdez says the best part about bringing art into the planning process is the broad appeal of getting creative. "You'll see everyone from little kids to elderly folks showing each other what they've made," Valdez says. "The mayor himself painted about more flowers than anybody—he kept saying he didn't want to stop painting!"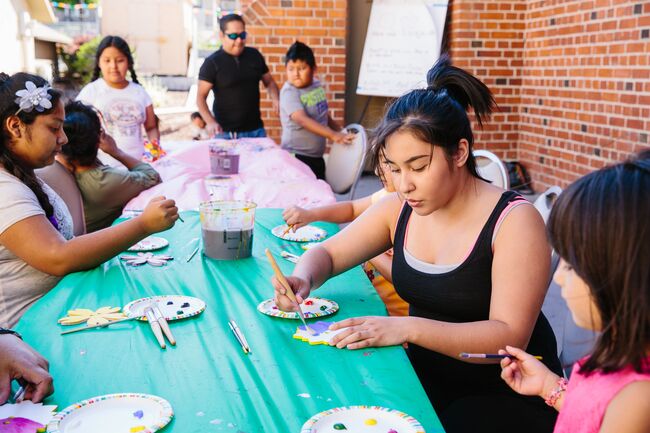 3. Bundle up
San Francisco's notorious fog isn't the reason trees in Civic Center Plaza sported sweaters this summer: they'd been "yarn bombed" by artists Lorna and Jill Watt, who spent a few hours each week out knitting and chatting with curious passersby. Their project is called Knitting the Commons, and it's part of an ongoing effort by The Trust for Public Land and the City of San Francisco to rethink and improve the vast, busy public space out front of City Hall. It's an offbeat approach to gathering input into efforts to rethink this sometimes-maligned public space. "We're catching people's attention, that's for sure," says Lorna. "When they stop to ask what I'm doing, it's a chance to fill them in and get them thinking about what changes they'd like to see here."
Get More Stories Like These
Donate to become a member, and you'll receive a subscription to Land&People magazine, our biannual publication featuring exclusive, inspiring stories about our work connecting everyone to the outdoors.
Check Out More Inspiring Stories
See how our supporters are helping us connect people to the outdoors across the country.