In Oregon, an island park honors a conservation trailblazer
In Oregon, an island park honors a conservation trailblazer
Conservationist, environmental lawyer, transportation expert, scholar, athlete, outdoorswoman … Gail Achterman was many things, but her family and friends tend to describe her the same way: a force of nature.
In a career spanning four decades, Achterman was the driving force behind some of Oregon's bedrock environmental laws. She was working to protect Willamette Valley forests and streams when she was diagnosed with cancer; she passed away in 2012 at the age of 62.
Gail's friends and family worked with The Trust for Public Land to carry on her conservation legacy: in 2016, the Oregon Department of Fish and Wildlife established the Gail Achterman Wildlife Area, a new public preserve on the Willamette River near her childhood home in Salem. The low, wooded island is a haven for wildlife, and a peaceful spot for paddlers to beach their kayaks.
For people who knew and loved Gail, it's a fitting memorial to one of the state's most respected environmentalists.
"Gail was brilliant, fearless, and wouldn't take 'no' from anybody," says her brother, Chris Achterman. "She had a unique ability to walk into a room of people who were not prepared to agree with each other on anything—highway contractors on one side of the table, salmon habitat folks on the other—and walk out with a deal."
"She never set out intent on destroying the opposition or getting exactly what she wanted—for her, it was about arriving at the best possible solution for everyone."
The Achterman children grew up in Salem, Oregon, in the heart of the fertile Willamette River Valley. Gail and her siblings had "basically free rein" of Bush's Pasture Park in Salem, says Chris, and they spent most of their free time outside under big shady oaks and sweet-smelling cherry trees.
Chris remembers a moment he says shifted Gail's perspective on the environment. "The river that day was running bright red, because the beet canneries upstream were dumping their untreated wastewater straight into the river," says Chris. Whether it was beet juice or untreated sewage, in the late 1950s rivers were unmitigated dumping grounds for industrial waste. Watching the red river roll by that day, "Gail always said something got lodged in her that she couldn't shake," says Chris.
After college, law school, and a few years in Washington, D.C., and the San Francisco Bay Area, Achterman returned to Oregon and launched her career of public service and private law. "She was one of the first lawyers in Oregon, if not the first, who introduced herself as an environmental attorney," says Chris. "She worked at a corporate firm, but she let it be known that she would not run roughshod over environmental protections for her clients' gain." On the contrary—she often worked to strengthen them.
Gail was a driving force behind some of the state's most important environmental laws, including the bill that established the Columbia River Gorge National Scenic Area, the Oregon Forest Practices Act, and the Groundwater Protection Act. As chair of the Oregon Transportation Commission, she steered public funds toward sustainable options like better bike lanes.
Meanwhile, she was an avid skier, climber, biker, paddler, and angler—"an all-around athlete," says Chris. "On her weekends, she always made the most of the landscapes she was working to protect. She loved Oregon and she wanted to make sure future generations would have access to the same kind of freedom and beauty that she did."
"I always thought Gail was on her way to becoming governor," says Stephanie Hallock, a public servant who spent decades working with Gail on environmental issues. "She was an extraordinary person—very direct, very honest, and extremely smart, but so warm and kind. It was devastating to hear that she was ill—because she was a great friend, and because if she'd had more time, she would have accomplished some monumental things for the resources and people of this state."
Before she died, Gail gathered her family and friends to her bedside and gave them some very specific instructions. "She told us what her goals were for the future of the Willamette Valley. Then she deputized each of us to carry on a piece of that work." Chris laughs remembering the scene. "It was so Gail!"
Their marching orders received, Achterman's loved ones began by teaming up with The Trust for Public Land. "I represent a group of committed, dedicated, civic-minded women who worked with Gail over the years," says Hallock. "She was a trailblazer and a generous mentor for other women in the field. We all admired her and wanted to do this for her." Together, they drummed up the funds needed to purchase the 290-acre island that would become the Gail Achterman Wildlife Area.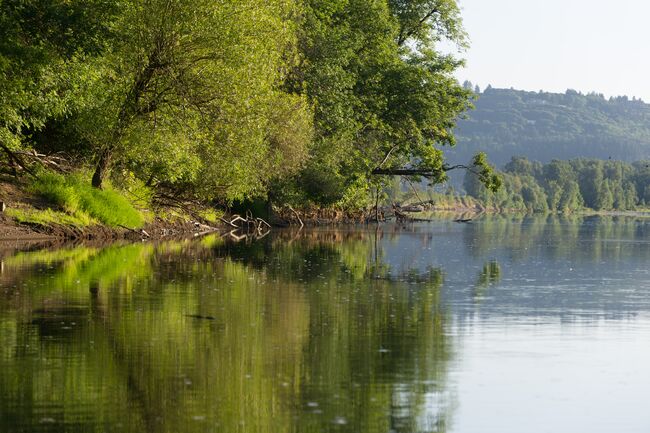 Once slated to be mined for gravel, the island is home to one of the healthiest forests and floodplains in the Willamette Valley. High water floods the marshes and channels separating the island from shore, providing food and shelter for salmon. A broad field of colorful arrowroot lilies blooms in spring. And the river is much cleaner now than it was the day Gail and Chris saw it run red with wastewater—a testament to the success of environmental protections that Gail fought for.
Chris knows his sister would have loved to kayak along the forested banks that now bear her name. It's a fitting place to honor her memory, he says: an island shaped by the rise and fall of the river, still wild thanks to the forces of nature—Gail included.
Get More Stories Like These
Donate to become a member, and you'll receive a subscription to Land&People magazine, our biannual publication featuring exclusive, inspiring stories about our work connecting everyone to the outdoors.
Check Out More Inspiring Stories
See how our supporters are helping us connect people to the outdoors across the country.