In Fresno, advocates unlock a new source of a park space
In Fresno, advocates unlock a new source of a park space
We admit it: we're park nerds here at The Trust for Public Land. So we're excited to release this year's ParkScore® index, our annual ranking of the largest U.S. cities based on park access, acreage, and funding. We like the friendly competition and the insights into how cities plan for parks and open spaces. But our favorite thing about ParkScore is its power to inspire action—helping elected officials, neighborhood leaders, and everyday people use data to make the case for green space in their communities.
Take Fresno, California, a diverse city in the Central Valley that's a hub for the state's agriculture industry. Here, finding a safe, welcoming place to get outside can be a challenge: nearly half of Fresno residents don't live within a 10-minute walk of a park, and the city's per-capita spending on parks is among the nation's lowest. All this means that Fresno has been near the bottom of the rankings since ParkScore debuted in 2013.
But for some Fresno residents, this is a call to action. "I think ParkScore has helped people in our community say, in very concrete terms, that we need to provide more safe spaces for our kids to get outside," says Artie Padilla. He's director of the Every Neighborhood Partnership, which hosts weekend sports programs for kids at schoolyards across the city. Padilla acknowledges that Fresno faces challenges that make it especially difficult to prioritize parks. "Fresno has the second-most concentrated poverty of any big city in America, and from that stems a lot of other issues: from higher crime rates to higher instances of diabetes and heart disease. But we've seen that one way to start breaking that cycle is by making it easier, safer, and more fun for kids to play outside."
Padilla was one of more than two dozen community leaders who got together with the city—under former mayor Ashley Swearengin—to figure out how to close the park access gap. It took years of work, but the group was able to finalize what's called a "joint use agreement," allowing for weekend programs hosted with community partners at 16 different schoolyards.
One such program is Fresno ParkRx, created with help from The Trust for Public Land. "We sat down with people in public health, education, parks and recreation, social justice, and faith-based organizations to determine how we could use the resources we have to make the biggest possible difference as soon as possible," says Chrissy Pepino with The Trust for Public Land. "We turned our attention pretty quickly to schoolyards: here are dozens of wide-open green spaces in some of the most park-poor neighborhoods, already in public ownership, that were sitting totally unused behind locked gates on the weekends. It's an opportunity to do more to help foster the connection between parks and community health."
On Saturday mornings at Vang Pao Elementary School, on the city's southeast side, Reyna Benitez heads the Fresno ParkRx walking group. She says that about 150 people have joined, from school-aged kids to seniors. "Many are struggling with health issues related to lack of exercise, but by joining the walking group, they're starting to take charge of their health in ways that haven't been available to them before." And their renewed motivation is contagious. "Word of our walking group is spreading through the neighborhood. Grandparents are bringing their grandkids and kids are convincing their parents. It's a growing group, but it's surprisingly close-knit. Our walkers are proud to be out there helping each other get healthy," Benitez says.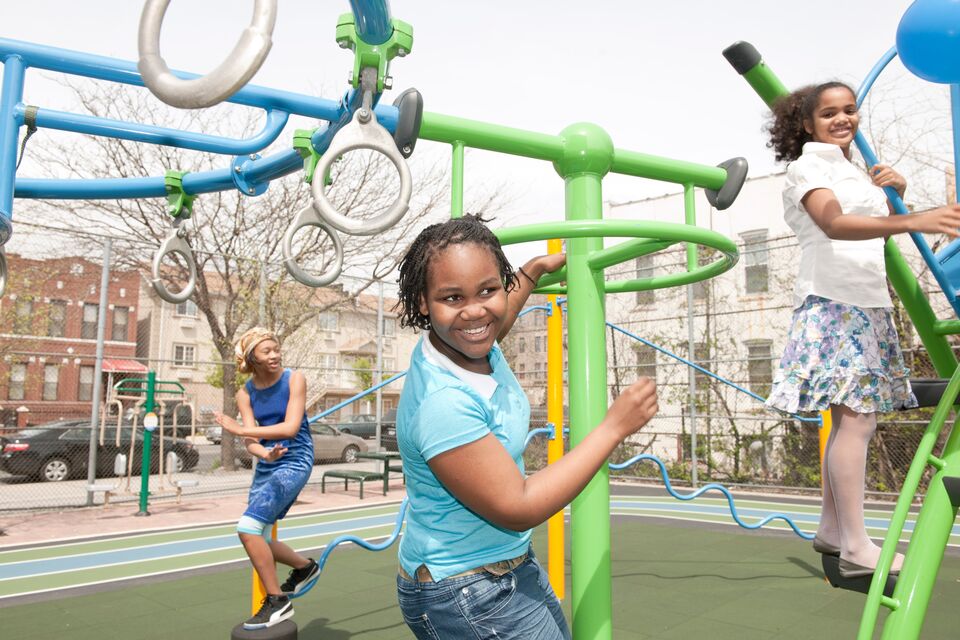 Opening up schoolyards for the community to use on the weekends has already made a measurable difference in park access across the city, a change that's reflected in Fresno's 2017 ParkScore ranking—the city was 97th out of 100 in 2016, but this year moved up to 90th. According to Artie Padilla with the Every Neighborhood Partnership, the improvement corresponds with a rise in programs that help people be more active—together, as a community. "The results we've seen in the past year are getting attention and spurring people to ask, 'What else can we do with these spaces?' We're seeing more groups taking advantage of the fact that these spaces are available on the weekends. People are throwing block parties and concerts, organizing pick-up soccer … it's all good. It makes our streets safer and our neighborhoods more familiar."
"We have a social justice challenge in our city," Padilla says. "As Fresno has grown, many of the new infrastructure investments have gone north with the newer development, leaving our south side bereft of the resources our residents need to live healthier lives." He takes a pragmatic view of the long-term challenges to addressing the inequity. "It would be better to have more parks, but that's a time-consuming process. In the meantime, partnerships like the one between the school district and the parks department are simple, inexpensive, and immediately impactful. The Trust for Public Land has helped us think creatively about how to use the resources we have."
Get More Stories Like These
Donate to become a member, and you'll receive a subscription to Land&People magazine, our biannual publication featuring exclusive, inspiring stories about our work connecting everyone to the outdoors.
Check Out More Inspiring Stories
See how our supporters are helping us connect people to the outdoors across the country.