Community Schoolyards™
projects
America's schoolyards are packed with potential. Help us unlock it. 
Parks are essential for healthy, equitable communities. Yet 100 million people in America—including 28 million kids—don't have a park within a 10-minute walk of home. 
 
And in our biggest cities, communities of color have access to 44 percent less park space than majority white communities. While closing the park equity gap certainly requires the creation of new parks, there's another solution hiding in plain sight: local schoolyards. 
 
Remember those 100 million people who don't live within walking distance of a park?  
Almost 20 million of them do live within a 10-minute walk of a public school. That means if every public schoolyard were open to the public—designed for the broader community, with greener features—we'd already be a fifth of the way to solving the problem of outdoor access for everyone in America.
That's why we're working to make community schoolyards a standard practice, serving as a hub for community empowerment, improved health and education, and climate resiliency. 
 
Transforming schoolyards into shared public parks is a common-sense, cost-effective solution to America's park equity problem. Join us as we make this important change, one schoolyard at a time. 
Community Schoolyards™ projects are a common-sense, cost-effective solution.
Education
Swapping out blacktop for trees, gardens, and up-to-date play equipment delivers a raft of emotional and academic benefits to students, studies show. Teachers and school administrators report that attendance, behavior, and test scores improve following schoolyard renovations. 
Health
Great schoolyards that are open to surrounding communities help students, families, and neighbors stay active and healthy. Access to green space and time spent in nature are associated with a number of positive outcomes: reduced stress, less depression and anxiety, improved concentration, lower obesity rates, and reduced blood pressure.
Equity
Community Schoolyards projects have the potential to help shrink the park equity divide. Our data analysis reveals that in the 100 largest U.S. cities, neighborhoods where residents predominantly identify as people of color have access to an average of 44 percent less park acreage than predominantly white neighborhoods. A similar pattern emerges in low-income versus high-income communities.  
Climate
Renovated schoolyards have climate superpowers. Specially landscaped gardens, bioswales, and porous surfaces absorb stormwater, preventing flooding and combined sewer overflows. Trees cool down play spaces. Our study shows that nationwide, 36 percent of the nation's 50.8 million public school students attended school in a heat island, which is defined as 1.25 degrees Fahrenheit warmer or more, on average, than the surrounding town or city. Among that group, 4.1 million students went to a school in a severe heat island of 7 degrees or more, while 1.1 million attend school in an extreme heat island of 10 degrees or more. In some communities, the heat anomaly exceeded 20 degrees. 
[We're bringing more parks to communities across the country. Sign up for the latest news about this important work.]
Before & After: Converting asphalt schoolyards into colorful spaces teeming with trees, gardens, artwork, and play features yields all kinds of benefits for students and the wider community, centering on health, education, climate, and park access.
Photo credit: The Trust for Public Land
How we're closing the outdoor equity gap
We've helped communities make the most of their schoolyards for 50 years. Explore Community Schoolyards projects in action, and find resources for bringing this initiative to your neighborhood.
With a new school year getting underway, educators, policy experts, and families are trying to figure out how to bring American schoolchildren back to the classroom in a way that is safe and equitable. One of best strategies for doing so is looking beyond the classroom—to the schoolyard.
Parks provide so many benefits to communities, but not everyone has equal access to these spaces. We're working with a coalition of partners in L.A. to transform existing Los Angeles Unified School District schoolyards into vibrant green spaces and bring over 1 million Angelenos to within a 10-min walk of a park.
Antiquated play equipment, a field that floods, a busy interstate running alongside it—the schoolyard at Jennie Reed Elementary School in Tacoma has its issues. But that's all about to change. Here's a look at our Community Schoolyards work in action.
We've transformed more than 300 public schoolyards into vibrant shared spaces. Here's how you can bring the benefits of a Community Schoolyard space to your neighborhood.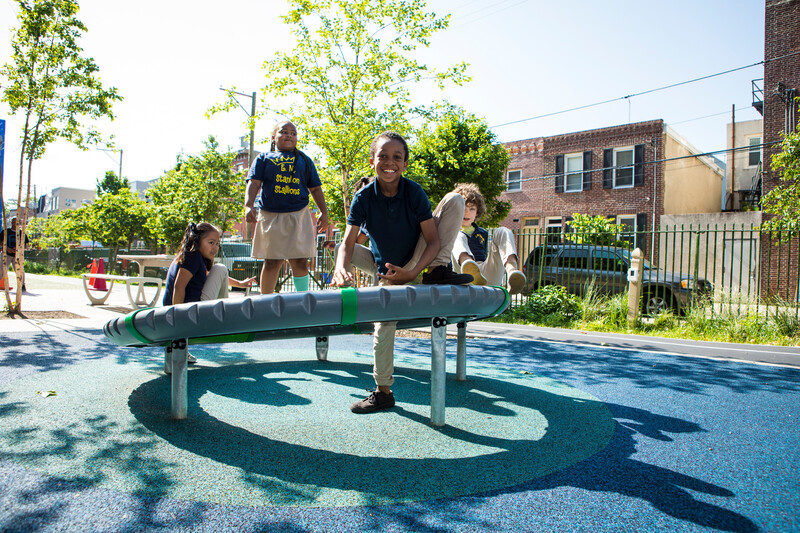 A once grim paved schoolyard at Southwark School in Philadelphia is now a vehicle for community connection, and a place where kids can activate their imaginations and play safely.
Our corporate partners
Spanning an array of industries, our corporate partners share our passion for creating more parks for more people through Community Schoolyards spaces. Here are just some of our partners in this important work: