What does ensuring access to nature have to do with fighting climate change?
What does ensuring access to nature have to do with fighting climate change?
Whether you like it, hate it, or still don't quite understand what it is, the Green New Deal has emerged as one of the most talked-about policies of the 116th Congress. The legislation has made headlines with ambitious goals to reach net zero carbon emissions by 2030—goals that, as FiveThirtyEight put it, reflect "the economy-spanning scope of fossil fuels in our lives."
But one line in particular caught our eye: the Green New Deal declares that it's the federal government's duty to secure access to nature "for all people of the United States for generations to come." At first glance, it's surprising—access to nature is important (we've been working full-time to achieve that goal since our founding in 1972), but what's it doing in a package of legislation that aims to curb fossil fuel emissions?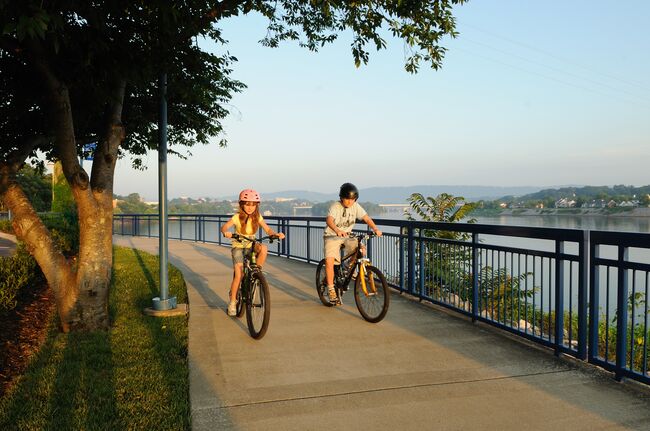 To answer that, consider this: today, we're at least beginning to understand the threats that climate change pose to so many aspects of our lives. The most powerful institutions on the planet—big companies, the military, and governments at every level—factor climate change into their policies, decisions, and investments. And it's why the conversation around the Green New Deal, regardless of specific policy points, is so important.
But since in the mid-1970s, when scientists first used the term "global warming" in a research paper, the climate battle has been led by the environmental movement. It's been the task of a generation, but environmentalists—who share a respect for the interconnection of our lives with the planet we inhabit, and who's gains are often led by the people and communities most threatened by the consequences of inaction—have kept the urgency and scope of climate change in the public eye.
But our awareness of climate change, and our gathering resolve to do something about it, has coincided with the largest indoor migration in human history. According to a study by the Environmental Protection Agency, the average American spends 93 percent of their life indoors. For the 100 million Americans—including 28 million children—who don't have a park within a 10-minute walk of home, the barriers to getting outside are often too high.
At The Trust for Public Land, we believe everyone needs a great place to play outside. And parks and green space can combat both the sources and effects of climate change, keeping our cities cooler, reducing flooding, making it easier for people to get around without driving, and even capturing and sequestering carbon from the atmosphere.
Parks are also where so many people begin to develop an informed, soulful relationship with the natural world. How can we expect future generations to protect our planet, and come up with solutions big enough to meet the challenges that climate change present, if they never get to experience the magic of being outdoors?
So it's fitting that access to the outdoors has emerged as a front in the climate change battle. And it's why we've asked the authors of the Green New Deal framework to include this measurable, achievable goal: everyone in America should have a great park within a 10-minute walk of home.
Regardless of what policies and targets emerge from this debate, one thing is certain: reducing emissions and investing in a future that will keep people and the planet safe is going to take a lot of collective will. Guaranteeing safe, welcoming, accessible green space where every American can explore, enjoy, and benefit from a relationship with nature is an important first step.
Get More Stories Like These
Donate to become a member, and you'll receive a subscription to Land&People magazine, our biannual publication featuring exclusive, inspiring stories about our work connecting everyone to the outdoors.
Check Out More Inspiring Stories
See how our supporters are helping us connect people to the outdoors across the country.