Rooted in community, New York City's gardens still thrive
Rooted in community, New York City's gardens still thrive
In New York City, where backyards are rare, a community garden is more than a place to grow vegetables: it's a place to play, get muddy, and gather for summer cookouts. Today, the Big Apple's 450 community gardens are a fixture of city living—but there was a time they were nearly lost forever.
In the late 1990s the battle for space in America's densest and most expensive metropolis was heating up. Seeking revenue, city officials at the time planned to auction off vacant lots—including more than a hundred community gardens—to the highest bidder.
Gardeners mobilized and drummed up a coalition of parks and conservation groups to protect the land. There were rallies, lawsuits, and at one point, a restraining order to block a scheduled auction. Speaking to the New York Times from a bench in one Harlem garden in 1997, a gardener named Mary Emma Harris was resolute: "I'm not going to dig up those plants. It's not over until the fat lady sings."
But to many observers, the likelihood of everyday New Yorkers prevailing against powerful officials and market forces was slim. Bulldozers were already scheduled to roll through gardens in Brooklyn, Harlem, and the Bronx. "If the fat lady isn't singing yet," observed the Times, "she has drawn a deep breath."
We dug deep in our archives for our favorite photos of New York City's heroic gardeners. The fashions in these photos are vintage, but the dedication to green space in the middle of the city is timeless.
The story of these community gardens starts in the early 1970s—a challenging time for American cities. In New York City, decades of discriminatory housing policies and botched attempts at urban renewal had left 11,000 properties in foreclosure. When the lots reverted to city ownership, they sat vacant and unmaintained, often accumulating trash and attracting criminal activity.
Demetrice Mills helps out at the Classon/Fulgate Community Garden in Brooklyn, and serves as president of the Brooklyn-Queens Land Trust. He remembers the years of love that New Yorkers poured into transforming these neglected properties into productive green space.
"On some of the blocks—especially the lower-income areas without a lot of investment coming in—people decided to do for themselves," he says. "The gardens really are the lifeblood of some blocks. They make home values go up, and they make the community safer. People see that every day there's activity in that space. Criminals are not going to sit around and do crime right in front of you: they'll move further on down the block."
To the communities around them, the gardens' value was incalculable. But to developers and city officials, the real estate had a price tag—one the gardeners couldn't afford. So in 1999, as the city prepared to put community gardens up for auction to developers, The Trust for Public Land negotiated a deal to buy and preserve 62 of them as open space instead, and the New York Restoration Project protected 51 more.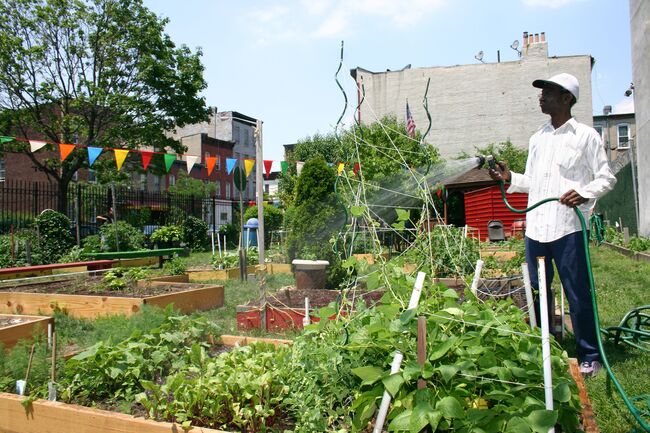 The eleventh-hour real estate deal addressed the immediate threat of development—but the question of how to care the newly protected gardens remained. Drawing on decades of experience in similar work across the country, The Trust for Public Land began to train community leaders for three new land trusts—the Manhattan Land Trust, the Bronx Land Trust, and the Brooklyn-Queens Land Trust—that would ultimately assume ownership of the gardens.
Demetrice Mills was one of those leaders. He'd first gotten involved at the garden on his block at the insistence of his neighbor, who cared for the garden until her health failed. "I grew up on a farm in North Carolina, but been working in corporate world for 25 years or more before I got involved with gardens here," he says. "So I knew how to plant, I knew how to make rows—and I also had organizational skills, people skills, the ability to communicate and to respect other people's thoughts."
Those skills would prove invaluable as Mills and other community leaders worked to preserve the momentum and unity local gardeners had built in the battle against developers. "We were trying to take dozens of groups, in some of the richest neighborhoods and some of the poorest, people of all races and religions, and put us together and say, 'Now let's all get along,'" Mills says. "There was fussing and fighting and a lot to be decided. It didn't happen overnight."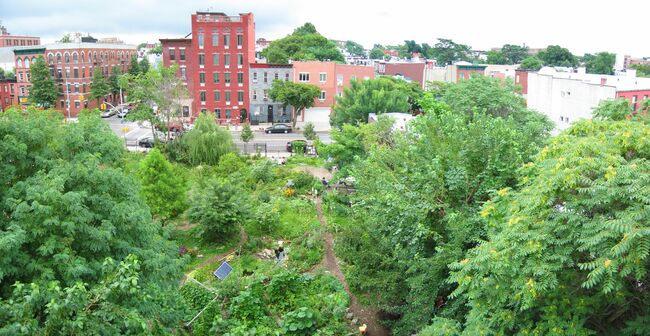 With leadership from dedicated volunteers like Mills—and countless hours of labor from thousands of friends and neighbors—today New York's thriving community gardens are a model for others around the country. "You know they say, 'If you build it, they will come'—we see that happen with our gardens," says Mills. "People may not come running, because these gardens need real work. But over time, more and more people see the space getting used, and see it making a difference. People want to be part of a proud space like that."
However else New York has changed since the gardens first took root in the 1970s, Mills says, the long hours caring for them is always time well spent. "When you're in a garden and you're working, your mind just steps away from other stuff. You're not even thinking about what's going on in outside world. It's just you and that dirt and those plants."
Trust for Public Land members help save special places like these. Thanks to a generous donor, every dollar you give by April 13 will be matched $2-to-$1 to protect public lands and create parks all across America. Give today.
Get More Stories Like These
Donate to become a member, and you'll receive a subscription to Land&People magazine, our biannual publication featuring exclusive, inspiring stories about our work connecting everyone to the outdoors.
Check Out More Inspiring Stories
See how our supporters are helping us connect people to the outdoors across the country.