For a Philadelphia neighborhood, playgrounds make "a world of difference"
For a Philadelphia neighborhood, playgrounds make "a world of difference"
Maria Gonzalez remembers what Philadelphia's Jose Manuel Collazo Playground used to look like. "The equipment was old and vandalized. You had to wear SPF 50 to be out there on the concrete, because there were no trees or grass." The soil beneath the playground had collapsed, creating a gaping hole in the center of the park. "It was not a welcoming place for kids—or for anybody, really," Gonzalez says.
The crumbling playground rankled Gonzales, who runs a community development organization serving North Philadelphia. "This is the poorest neighborhood in the city, but does that make the people here less deserving of beauty? Our people are just like anybody else—they want green spaces, less crime, and a safe environment for their kids," she says.
So Gonzalez and her staff took action. Their organization, called HACE, normally focuses on programs like affordable housing, credit counseling, and neighborhood planning—not park cleanup. But the HACE staff's deep involvement in the community made them natural leaders in the effort to improve Collazo Playground (plus, their headquarters are across the street). "Collazo Playground showed up as a priority back in 2005," says Gonzales. "That's how long we've had this project in our sights as a community."
HACE raised some money for new playground equipment, organized clean-up days, and commissioned a mural. "We did the best we could with limited resources to make it into an asset for the neighborhood," she says, "But we knew the park needed more than we could give it."
That's when Gonzalez was introduced to The Trust for Public Land. Since 2014, through partnerships with the Philadelphia water and parks departments and the school district, we've helped create or rebuild 11 parks and schoolyards across the city—including Collazo Playground. Today, 220,000 Philadelphians live within a 10-minute walk of a Trust for Public Land project.
"For Collazo Playground, The Trust for Public Land was amazing," says Gonzalez. "They did meetings and outreach and asked a lot of questions, and fielded a lot of lively discussions about what features this park should have. We wanted this to be a place that everyone would use and feel welcome, and they helped us translate that into a design that had areas for everyone from young kids to seniors."
Before the renovation, Gonzales says Collazo Playground used to be a magnet for drug use and crime. Today, it's a thriving community hub, so popular that "We could use 20 more just like it. As a parent myself, it makes a world of difference for a community to have a place where your kids can go play that feels safe."
For The Trust for Public Land, creating spaces like that depends on gathering ideas from the people who'll actually use it. "Our participatory design process is about listening first, then using our design expertise and resources to translate what we hear into a beautiful, one-of-a-kind public space," says Danielle Denk with The Trust for Public Land. "That's especially important in neighborhoods where families don't have the safe green space they need."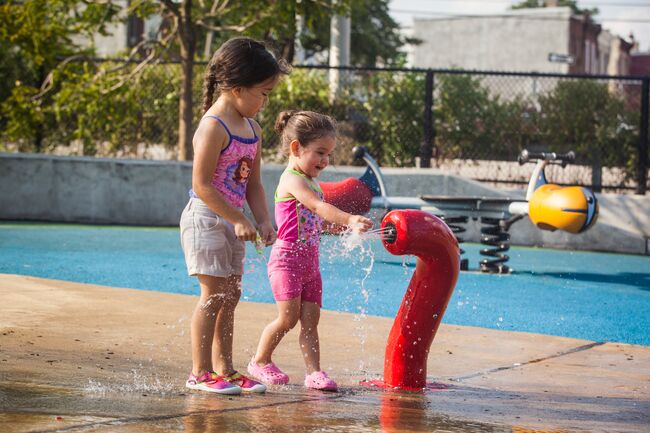 Gonzalez sees the changes at Collazo Playground as part of a promising trend for the neighborhood. "There's a history of disinvestment in our area, and that's led to vacancy and blight. But little by little, we've been able to overcome that," she says, citing a new shopping center and a supermarket in the works on the neighborhood's main commercial drag, and plans for a greenway along an old rail line.
"We don't have a lot of land for big green pastures or anything, so to the extent that we can, let's incorporate green into every nook and cranny we have," she says. "Our residents hear about new investments coming, but these changes to the built environment are needed to visually communicate that that's true."
Get More Stories Like These
Donate to become a member, and you'll receive a subscription to Land&People magazine, our biannual publication featuring exclusive, inspiring stories about our work connecting everyone to the outdoors.
Check Out More Inspiring Stories
See how our supporters are helping us connect people to the outdoors across the country.