In the Seattle metro, a new bike path gets kids to school the old-fashioned way
In the Seattle metro, a new bike path gets kids to school the old-fashioned way
Despite its notoriously wet winters and some seriously steep hills, Seattle is a two-wheeled triumph: its residents commute by bike at a rate six times higher than the national average.
That's thanks in part to dedicated greenways like the Burke-Gilman Trail, an old rail line that the city began to convert to a multi-use pathway in the 1970s. Today, the Burke-Gilman snakes through city neighborhoods, past the University of Washington, and along the scenic western shore of Lake Washington—offering cyclists a flat, mostly car-free route across the city proper.
But elsewhere around the Puget Sound, biking commuters must contend with the challenges of suburban development: longer distances from home to work or school, on roads with more traffic, higher speed limits, and often narrow shoulders. That's why The Trust for Public Land is working with the Cascade Bicycle Club to lead the nonprofit coalition remaking the Eastside Rail Corridor—today a mostly defunct freight line—into a greenway linking five cities on the eastern shore of Lake Washington.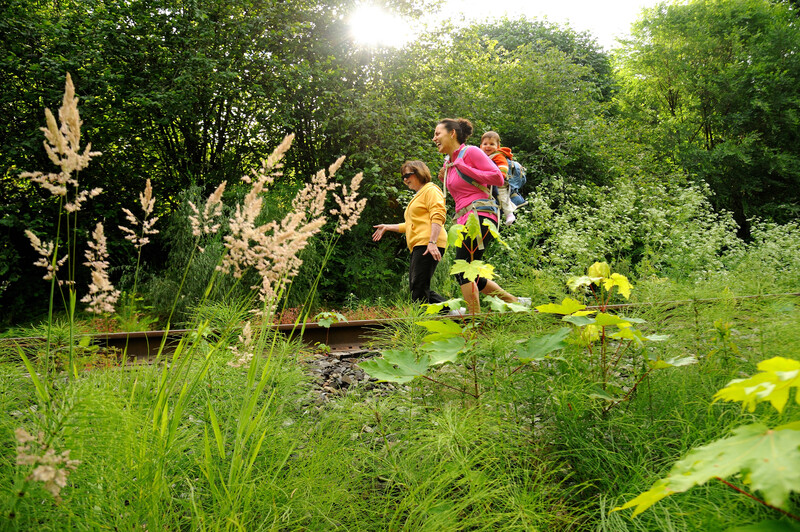 For much of its 42-mile length, the Eastside Rail Corridor is still a work in progress. But people who live along the first completed sections are already making the trail a part of their daily life. For students at Lakeview Elementary School in Kirkland, the new Cross-Kirkland Corridor Trail provides a safer, more beautiful way to get to school—and their parents are thrilled to leave the car in the garage.
Most days, fourth-grader JT Andrews pedals two miles along the new trail to school. JT used to get a ride with his parents—time he'd spend zoning out in the back seat as they crawled through traffic. Now, he starts the day outside, getting exercise. "We feel really good about him taking the trail, because it's so much safer and quieter than riding on city streets," says JT's father, Blue Andrews.
In the 1960s, half of American kids walked or biked to school like JT. Today, more than half arrive by car, and only 13 percent walk or bike. Parents cite a combination of distance, weather, traffic, and other safety concerns for keeping their kids in the car—but the decline in active transportation has mirrored a rise in obesity among children aged 5-14, a phenomenon scientists believe stems in part from lack of exercise.
By making outdoor activity part of his daily routine, JT's bike ride to school is benefitting his health and is helping him form good habits, says his dad. Not to mention, it's easier on the family's schedules, and, according to Blue, it's giving JT a taste of the independence that kids need to grow and learn. "There's a park that he can stop at a few miles from the house where he'll meet up with a group of boys who all ride their bikes. We think it's great for them to be able to be out on their own a little bit each day," Blue says.
Andrea Landvogt, another Lakeview Elementary parent, walks her kids to school on the trail most mornings. The time they spend together on the trail—with Andrea's smartphone switched off in her pocket—is a chance for them to connect in a way that can be tough at home. "That media-free half hour we spend together has become our favorite time of the day," she says. "We get some energy out and fresh air in. And it's a chance to talk about what actually matters to my kids; their fears, hopes, worries, and excitements."
Researchers are finding that spending time outside every day boosts students' ability to pay attention in class—it can even help kids manage Attention Deficit Disorder. Andrea says she's noticed the difference in her own children. "By the time we get to school, they're awake and ready to sit down," she says. "It's such a positive start to the day."
Before the Cross-Kirkland Corridor, Andrea drove her kids to school, contending with the intense rush-hour traffic that plagues the Seattle metro area. "Population in the Puget Sound region is growing fast," says The Trust for Public Land's Courtney Landoll. "As we look ahead a few decades, we'll likely see denser development and more traffic in these Eastside communities. We need alternative transportation options—like public transit and bike trails—to curb traffic congestion and carbon emissions. That's where projects like the Eastside Rail Corridor will really make a difference."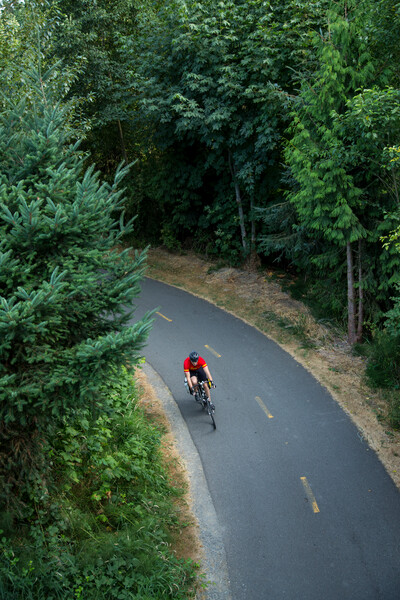 Today, 350,000 people live within easy reach of the planned route for the Eastside Rail Corridor. When it's complete, the trail will run from Snohomish to Renton, through some of the fastest-growing cities in the Seattle metro and near the offices of major employers including Google, Microsoft, Group Health, and Boeing. And it will knit together existing trails, serving as the spine of a regional trail system reaching all the way from Puget Sound to the Cascade Mountains.
For families like the Andrews and the Landvogts, that means less time sitting in traffic and more time outside together. Andrea Landvogt says she's happy to do her part to reduce air pollution and carbon emissions—and saving some gas money is nice, too—but the daily dose of nature is what matters most. "Instead of inhaling exhaust, my kids get fresh air. We see birds, squirrels, bunnies, and butterflies. We get to watch the seasons change," she says. "That, to me, is priceless."
Get More Stories Like These
Donate to become a member, and you'll receive a subscription to Land&People magazine, our biannual publication featuring exclusive, inspiring stories about our work connecting everyone to the outdoors.
Check Out More Inspiring Stories
See how our supporters are helping us connect people to the outdoors across the country.